If you drive on or walk near public roads like city streets or highways, then you have probably encountered a number of traffic control devices around construction zones and other areas.
Construction workers have many traffic channelizing devices to help direct traffic patterns around dangerous areas. The primary role of the traffic devices is to warn drivers about upcoming dangers in the road or immediate areas.
Traffic control devices have been proven to increase awareness for drivers while also improving the safety for pedestrians, drivers, and construction workers. There are many different types of traffic channelizing devices that can be used in a variety of situations.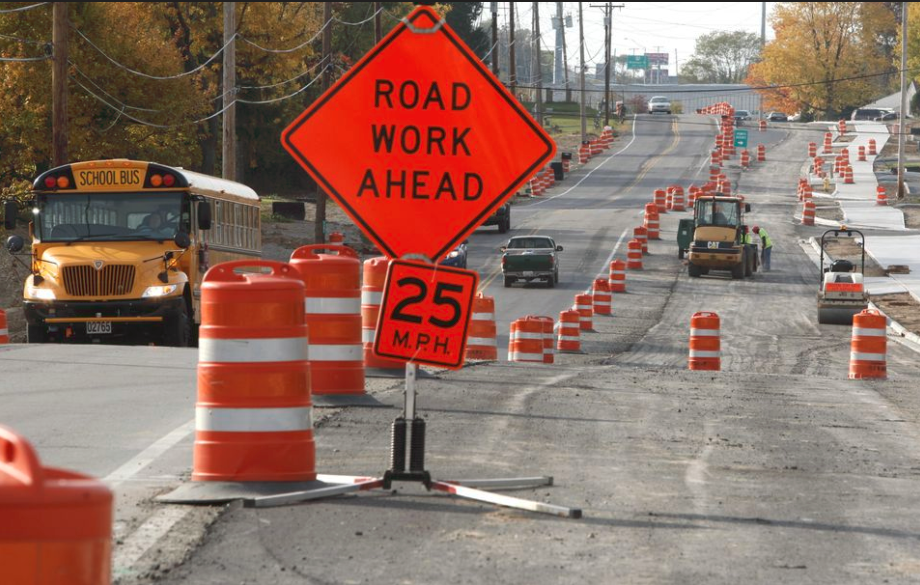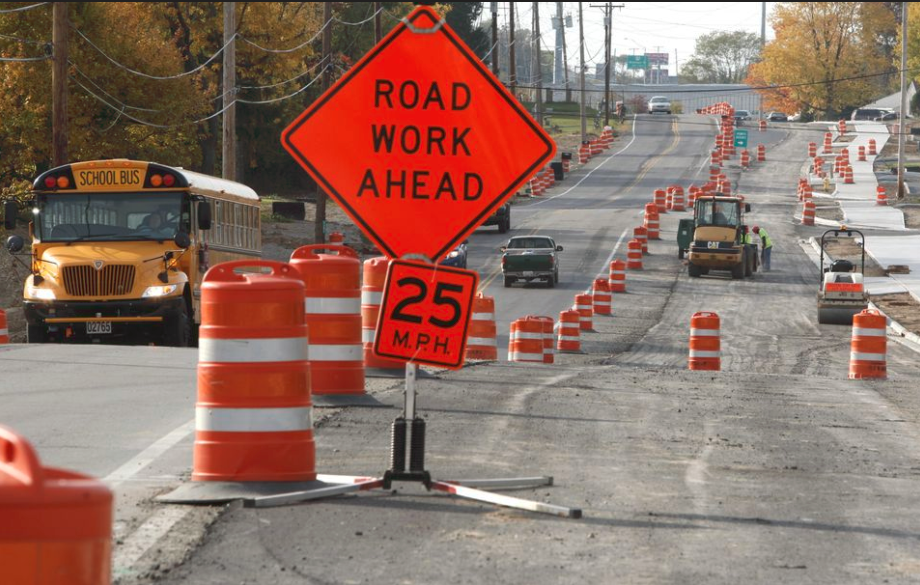 Traffic channelizing devices are part of a comprehensive effort to make public transportation safer and more efficient as drivers pass through temporary traffic control zones. Knowing the right type, size, and color of warning devices is vital to ensure public safety for work to take place.
Understanding The Basics & Importance Of Traffic Cones
As road construction projects continue to increase across the U.S., traffic cones are being utilized for temporary traffic projects or other areas where immediate dangers could impact drivers and pedestrians.
Traffic cones are lightweight, easy to transport, and highly visible in all types of weather conditions and even in low light. This makes them the perfect channelizer for many situations, and because of this drivers encounter traffic safety cones more frequently than any other traffic channelizer.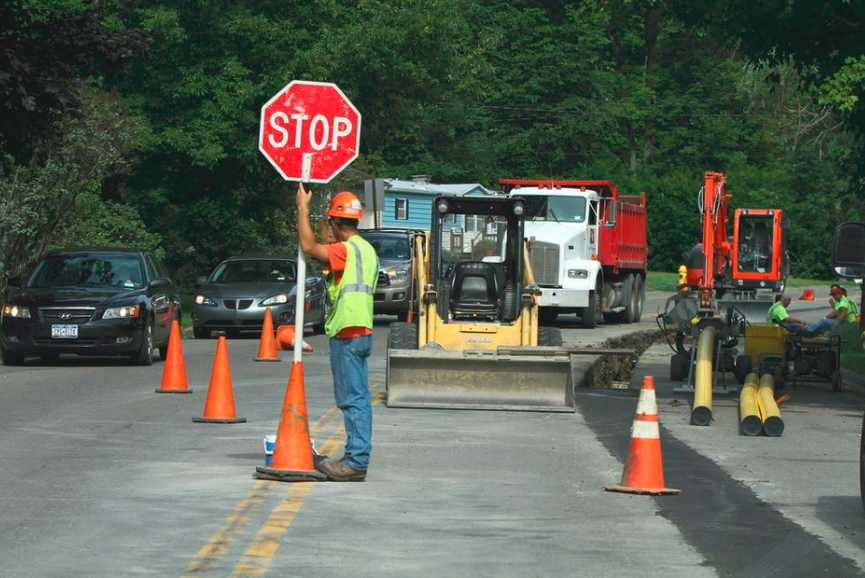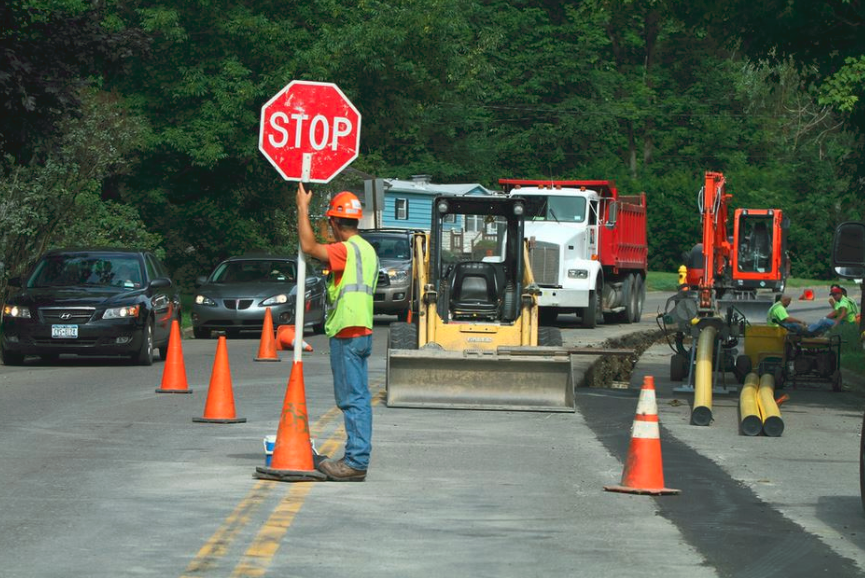 Traffic safety cones commonly come in a bright orange color for greater visibility, but they're also available in several bright colors like lime green. The colors should be easily seen in the inclement weather and sun.
Cones vary in sizes depending on the placement and needs. Larger traffic cones are used for freeway and highway places since they help drivers that are moving at higher speeds because they help drivers identify their presence from a long distance away. 
Traffic cones are made up of a base, which is typically black, that sits on the ground and is molded into the slanted orange cone material. All traffic cones are engineered to be hollow which makes them lightweight and prevents severe damage to vehicles or even individuals which may come in contact with them.
What Are The Different Types Of Traffic Safety Equipment? 
While traffic cones are the most commonly used traffic devices on public roads, there are different types of traffic equipment that can be used in a variety of situations. Different traffic channelizers are engineered to be used in specific locations because of their shape, weight, and visibility.
Here are more detailed descriptions about each of these traffic management control devices.
Traffic Channelizer Drums
Traffic channelizer drums are made from lightweight, flexible, and malleable materials that make them perfect for use on highways or other areas where vehicles are traveling at high speeds. At a minimum, channelizer drums need to be at least 36 inches tall with at least an 18-inch width to ensure they grab the attention of drivers who are traveling at high speeds.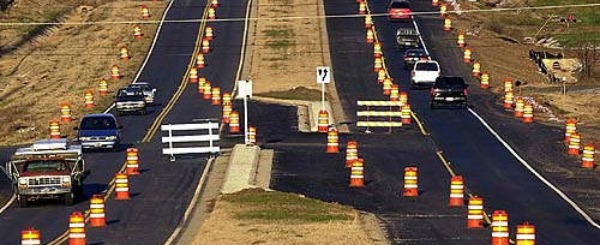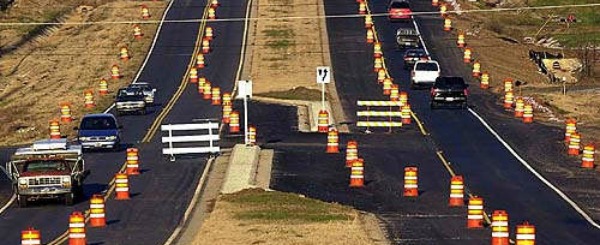 The Manual on Uniform Traffic Control Devices (MUTCD) also states that traffic channelizer drums cannot be made of steel, and markings on the device need to follow strict regulations of retroreflective stips and other trademarks to be used on public roads. 
Delineator Tubes
Delineator Tubes are tall, skinny channelizers that come in a range of colors. This traffic safety equipment is outfitted with alternating white segments on the device to ensure their visibility in different weather conditions and varying lighting at nighttime.
Unlike other traffic control markers, delineator posts are best used in locations with low or minimal vehicle traffic. Instead, these channelizers are often used to warn drivers in areas with lower speeds, or used in areas that are restricted to pedestrians.
Traffic Barricades
A traffic barricade is a portable or fixed device that comes in variations with one to three rails and appropriate markings. This traffic control device is used to control traffic by closing, restricting, or delineating the right-of-way for vehicles.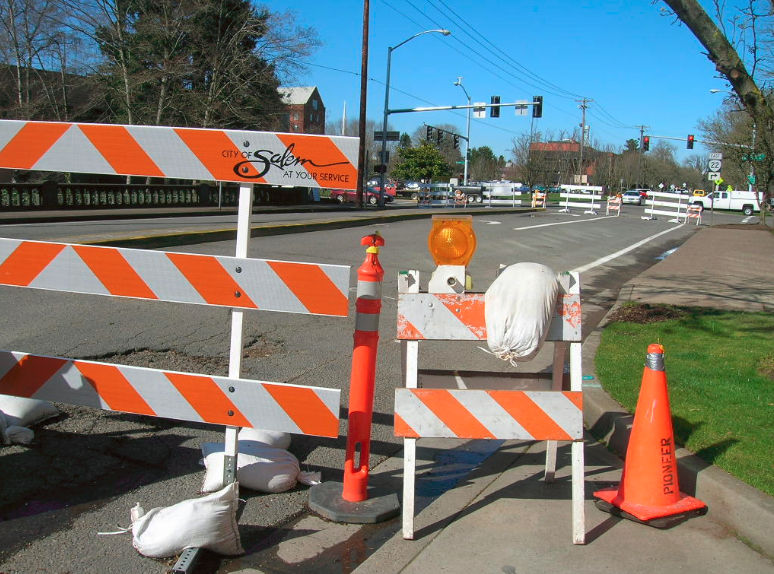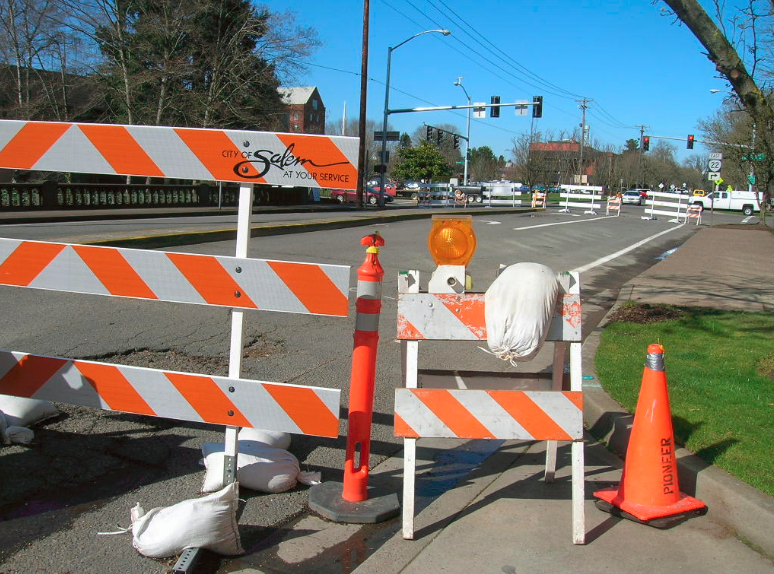 Based on the speed, intent, and other variables of a situation there are different types of traffic barricades.
Type I and Type II barricades should be used in situations where traffic is maintained in areas with temporary construction. Type I barricades are often used on conventional roads and city streets.
Type II barricades have two sets of reflective tape and have more visibility.
Type III barricades are used on roadways that are temporarily or permanently closed, and this type of barrier can extend entirely across a road.
Portable Barriers
Often times, construction zones and other areas require temporary barriers to restrict access for vehicles and pedestrians physically. The need for movable obstacles like a Jersey Barrier should be determined based on the protective requirements and engineering of a location.
Many construction zones use Jersey Barriers to route pedestrians from accessing sidewalks or other areas that could pose dangers. However, some construction zones may require portable barriers to channelize traffic. When these devices are used to redirect traffic in low-speed areas, and they must be supplemented with standard delineators, channelizing devices, and pavement markings.
Traffic Cones
Traffic safety cones are the most common traffic control device that you will see near construction zones or other areas of immediate danger. Traffic cones are often used to divide traffic lanes, divide opposing traffic lanes, and offer short-term maintenance and utility work.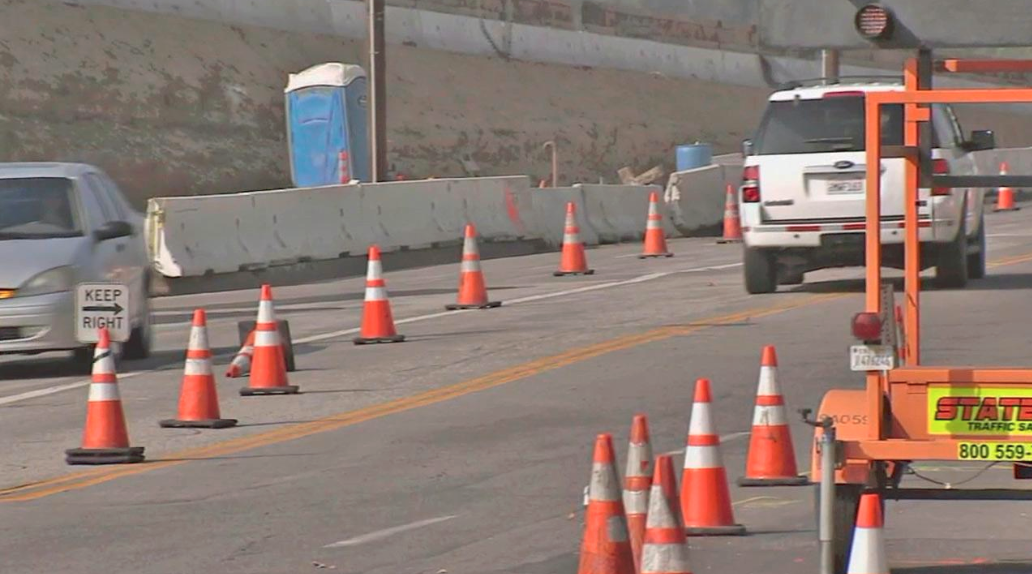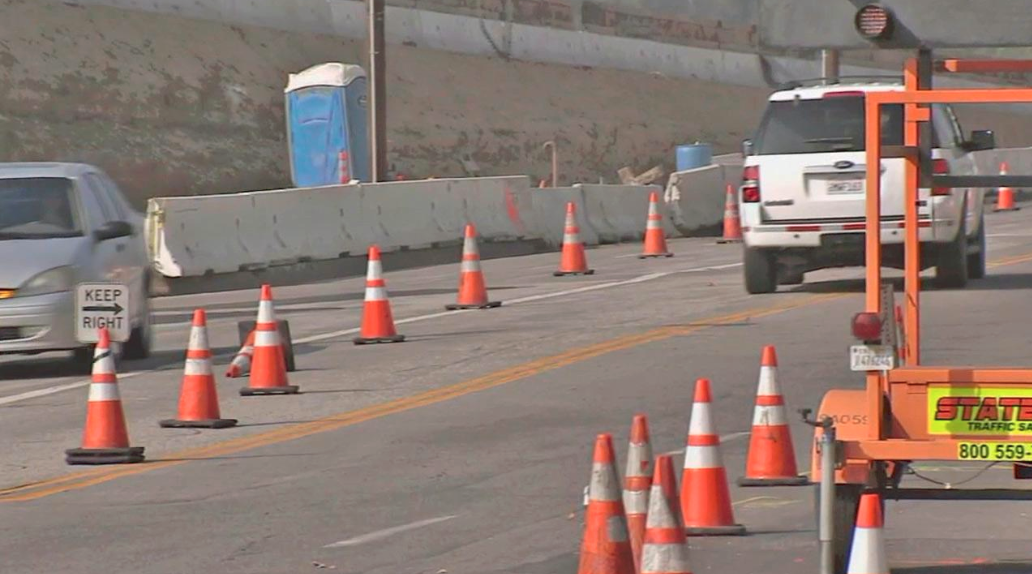 These channelizing devices are often used in areas where cars are traveling at lower speeds, and they follow strict size, width, and markings based on their location and other needs. Depending on wind speed and traffic speeds, traffic cones can be outfitted with specialized cone weights to provide additional stability.
Traffic Safety Devices To Improve Safety For Everyone
As the U.S. economy continues to grow and more drivers hit the road each year, different traffic control devices will be used to help keep construction workers, pedestrians, and drivers safe.
In construction zones, drivers need to be aware of lane closures, detours, and moving equipment that could disrupt regular traffic patterns and other dangers. You can use this information to help make construction zones safer for workers and drivers, and help prevent accidents by using the correct traffic management equipment in the proper locations!