Many companies are in the race to deliver the first autonomous car to the public for commercial and personal use. These companies include the likes of Uber, BMW, Waymo, and even Uber, and each company has their sight on collecting the benefits of being the first company to offer autonomous car technology to the public.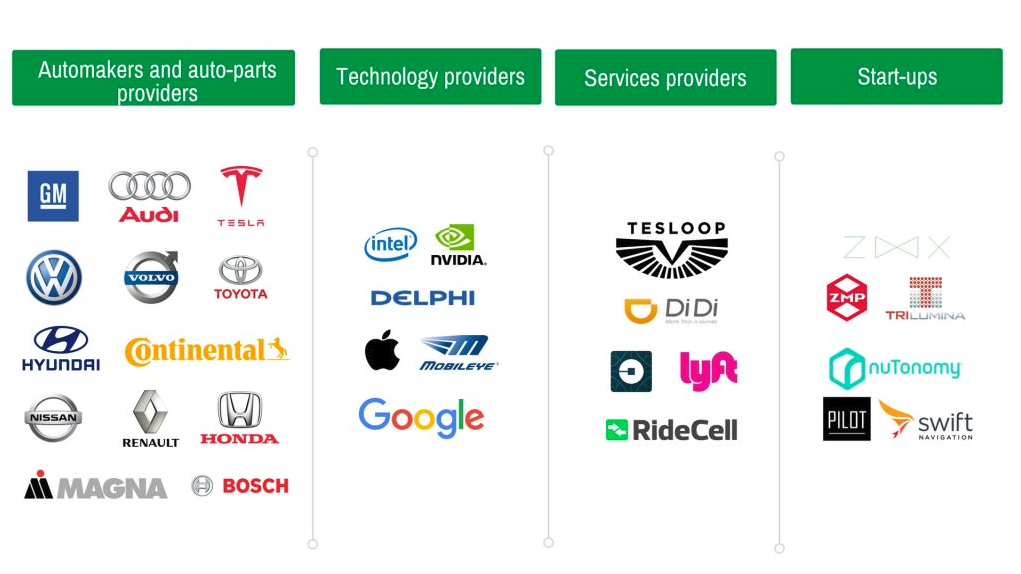 Each company is looking to bring self-driving cars to the market for different reasons. Some companies like Uber envision a world where ride-hailing services only require an autonomous vehicle to pick up patrons around town.
Other companies like Tesla want to expand driverless car technologies to different industries like commercial trucking and use that technology for space travel.
While they are not commonly seen in the news, Ford is one of the leaders in the race to bring autonomous cars to our city streets. Even though many people think Ford is a dying brand, the truth is that Ford Motor Company has invested millions of dollars and has more than 10 years of experience developing and testing autonomous vehicles.
With their knowledge of car production and available resources for research and development, Ford is positioning themselves to be one of the leaders for the future of autonomous car technology. 
Ford's Unique Advantage To Lead The Race To Autonomous Cars
When people think of autonomous cars, many people think of Tesla, Microsoft, and even Apple developing and testing driverless technology. While these tech companies have the advantage of devoted resources on the sole purpose of building safe techniques to control self-driving vehicles.
Ford has the advantage of an established process and knowledge about how to manufacture cars from conception to the production line. At the same time, Ford has been a leader in traditional vehicle technology, and their leadership in this area is a valuable asset to their progress in the area of autonomous car technology. 
In 2016, Ford took a big step in their ambitious goal as they created the Ford Smart Mobility, a new subsidiary established to research, design, build, grow and invest in emerging mobility services.
While maintaining their core business of traditional cars, SUVs, trucks and electric vehicles, Ford's creation of Ford Smart Mobility shows that Ford is aggressively pursuing other opportunities to be a leader in connectivity and mobility of autonomous cars.
As Ford builds out their capabilities and research, Ford Smart Mobility is changing the way the world moves in several areas, including connectivity, mobility, consumer experience, and data analytics.
These four pillars are important for Ford to enhance so they can incorporate their autonomous car technology in a way that will help them accomplish their goal of delivering a fully autonomous car by 2021.
Building Strategic Alliances To Achieve Their Goals
Along with a strong history of developing technology for driverless technology, Ford has a strategic advantage because they have massive production facilities that they can tap into to build the future cars.
The company's understanding of software, sensors, and hardware production means that they can put their sophisticated engineering knowledge towards manufacturing high-quality vehicles at a scale many other companies are unable to match.
Ford has committed to delivering the first fully autonomous car by 2021. To provide an autonomous vehicle within this timeframe, Ford has made four key investments and collaborations to expand its existing infrastructure.
Here are the stakes that could help Ford deliver to their promise of fully autonomous vehicles for consumers within the coming years.
Velodyne: Ford has invested in Velodyne, a Silicon Valley company that focuses on light detection and ranging (LiDAR) sensors.
Ford is investing in this technology company because Velodyne has a proven track record of developing the technology necessary to create detailed 360-degree environmental perspective for use in autonomous vehicles, industrial equipment/machinery, 3D mapping, and surveillance, Velodyne LiDAR now supplies a complete line of detectors capable of providing the most precise real-time 3D information available in the marketplace. 
SAIPS: Ford purchased the Israel-based AI learning business to strengthen their ability to process data with onboard instruments and enhance computer vision. SAIPS core experience is the design, development, and implementation of search motors which are predicated on Deep Neural Networks ('Deep Learning').
These accomplishments have allowed SAIPS to develop algorithmic solutions in image and video processing to help autonomous car technologies react in real-world environment changes. 
Nirenberg Neuroscience LLC: Ford has secured exclusive licensing agreements with Nirenberg Neuroscience which provides the technology needed to permits system vision tasks such as navigation, collision avoidance, object recognition, and facial recognition, to be done in a wide selection of conditions.
This is a vital piece of the puzzle to process, interpret, and apply information gathered by onboard devices to allow self-driving cars to navigate city streets safely.
Civil Maps: Ford has invested heavily in Civil Maps which is based in Berkeley, CA and produces 3D mapping capabilities for autonomous car technology. Public Maps has pioneered an innovative 3D mapping technology that enables self-driving cars together with the capacity to build, share, and upgrade a mental model of the surroundings while always determining their location.
This technology is vital for self-driving cars because it is scalable and efficient to help existing processes work together for car navigation.
Ford Partners With Dominos For Driving Tests
While some companies are partnering with Uber to gain real-world data about city roadways and technology performance, Ford is partnering with Dominos to provide self-driving cars to deliver pizza in their self-driving Ford Fusion in Ann Arbor.
This will provide Ford with valuable information about how their technology interprets and responds to changes in their immediate environment.
At the same time, Dominos will benefit from this test because they will be able to see whether customers like the idea of driverless-car deliveries.
Even though Dominos is not sure if customers will want to go outside in the rain or snow to retrieve their pizza, they see the partnership with Ford as a valuable partnership to position itself ahead of the emerging technology.
Old School Companies Leading The Future Of New Technology
Even though other companies get most of the attention in the news and other outlets, Ford Motor Company is carving out their corner of the autonomous car market.
Combining their ability to produce cars in high volumes and their engineering capabilities, Ford could be positioning itself to be a frontrunner in the future of self-driving technologies. 
We will have to keep an eye out for how Ford aligns their resources and experience to help them meet their goal of a fully autonomous car on the road by 2021.
Strategic partnerships are helping Ford build up their capabilities, and the future looks bright for the autonomous car industry as Ford continues to invest heavily in technologies and other aspects that could have prevented driverless cars from reaching our city streets!