Are American Cities Ready For Self-Driving Cars?
Self-driving cars could be one of the most powerful forces to impact American cities since the expansion of the interstate system. While the adoption and excitement of self-driving cars are well known, many cities are not ready for how autonomous vehicles will impact their future development.
Many urban development organizations have not considered the impacts that self-driving cars will have on their infrastructure, tax structure, traffic safety equipment like safety cones, and even the real estate industries. Cars have a dramatic impact on how our cities are planned and run.
If public transportation adopts self-driving cars as part of the larger plan, our national landscape will evolve and require cities and towns to adapt to technology. New commuting options could open the door to more efficient transportation solutions for local citizens, along with long-distance travelers.
Top Ways Self-Driving Cars Could Impact Our Cities
In the next 20 years, we will see technology impact the distance, speed, and growth of cities. There will be many changes, and many of them will be unpredictable.
We are sure that some of the ways that self-driving cars will impact urban planning are parking, commuting time, and reshaping the landscape of our public transportation systems.
1. Reduced Needs For Parking Lots
One of the biggest ways that cities will be impacted by self-driving car technology is the reduced need for parking.
Many cities generate a substantial amount of revenue each year through parking meters and other fines related to city parking.
San Francisco alone makes an estimated $130 million dollars annually from parking meters. In reality, cities make more money from parking citation fees that come through meter violations. The top cities that cash in on parking fees include: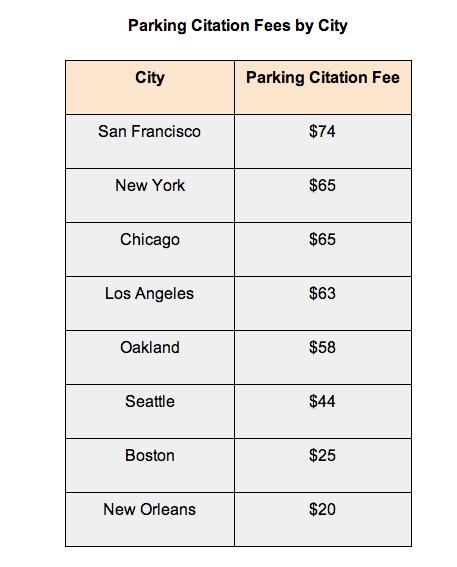 The average U.S. car is parked for about 95% of the time that it is in city limits. Having a car that can drop you off and drive back to your house on its own will reduce the need for parking spaces in downtown cities.
If autonomous cars move and park themselves, parking violations will decrease. Self-driving cars will also minimize the need for parking permits, parking lots, and other auto-related expenditures.
Cities can recoup much of this lost revenue through the creation of free car permits and other expenses so that the total income losses can be offset.
2. Eliminating "Wasted Commute" Time
One of the biggest complaints from local travelers who drive to the cities each day is the "wasted commute" time. Usually, this time is considered "lost" because that time could be used for working, sleeping, or recreation.
Google hopes their self-driving car technology will answer the need to improve the lives of millions of Americans with autonomous vehicles.
Instead of "losing" time commuting, they will be able to engage in more enjoyable or productive activities. By reducing 90% of wasted commuting time, Google expects customers will:
Experience 4.8 billion fewer commuting hours.
Save 1.9 billion gallons on fuel costs.
$101 billion saved in lost productivity and fuel costs.
3. Public Transportation
For decades urban planners have hoped to provide personal point-to-point transportation service without the hassle, congestion, or costs involved with traditional mass transportation options.
Some urban planners are excited for how autonomous vehicles that are powered by electricity and do not require a human driver can reduce operating costs and increase accessibility for traveling through crowded downtown streets.
Many cities have tested a wide range of advanced transportation options to improve the mobility of their citizens, but for the most part, public transportation has not changed much over the course of our lifetime.
People continue to use the primary modes of transportation today that they utilized for the past century:
Walking
Biking
Public Transportation
Driving
Carpooling
Taxi Services
As cities continue to expand and populations put more pressure on public roads and infrastructures, urban planners are looking to self-driving car technology for future transportation needs.
Through the evolution of technology, cities have received various transportation services that increase the mobility of people who are not able to, or choose not to, own a personal car.
Some predict that a network of self-driving vehicles for public transportation will provide the much-needed transit grid for a wider range of personalized transit routes.
Currently, buses and ride-sharing services are the backbones of public transportation systems. While many cities will still depend on "major, hard routes" like subways, self-driving vehicles will offer point-to-point transportation without the need for rigid transit systems and associated costs of traditional solutions.
Changing Urban Transportation Politics
As we have seen, self-driving cars could have a substantial impact on the way our cities operate and generate revenue. The largest unknown surrounding autonomous cars is how they will affect our urban governance.
As budgets continue to shrink and land value rises, many cities have been unable to implement services like public transportation systems.
In places of public utilities like subways and new bus lines, the private sector is filling the supply and demand gap experienced by city residents. In some ways, Uber has replaced a significant revenue generation model and, in turn, replacing a large portion of public works in the process.
This shift from public service-oriented transportation systems means that private sectors are taking more control of how people travel and communicate.
The big question is who should be doing city planning: private companies or democratically elected governments?
While some may see the shift of public transportation toward the industry as an infringement break in the general well-being, others see it as an opportunity to improve standards and reallocate funding.
This division is seen especially clear in smaller cities and suburban settings where public transportation is inadequately funded and under-serviced.
The truth is that transportation systems comprised of autonomous cars will not be as efficient or cost effective as current high-capacity bus lines for quite some time.
We shouldn't rush into the privatization of public services without first ensuring the security of these new technological systems.
City lawmakers will retain control of public works for some time, and they should look forward knowing that self-driving car technology can improve our public transportation systems.
The Next Turn For Self-Driving Cars In Urban Development
We don't yet know how self-driving cars will impact urban development. However, we do know that people need transportation and that advancements in technology will provide new opportunity and challenges for city developers.
Are cities ready for Self-Driving cars?
No, but there is time for them to begin the discussion and plan accordingly.
With careful planning and foresight, cities can start integrating self-driving cars into their urban planning strategies to reduce costs boost efficiency for years to come!