Unpredictable weather conditions like snow storms, heavy rain, and dense fog can be a significant source of frustration for drivers. Not only do these factors contribute to traffic accidents and injuries on our public roads, but they can also lead to deaths across America.
As the U.S. government seeks to reduce deaths caused by traffic accidents to zero within 30 years, automakers and politicians are looking to autonomous technology to lead the way.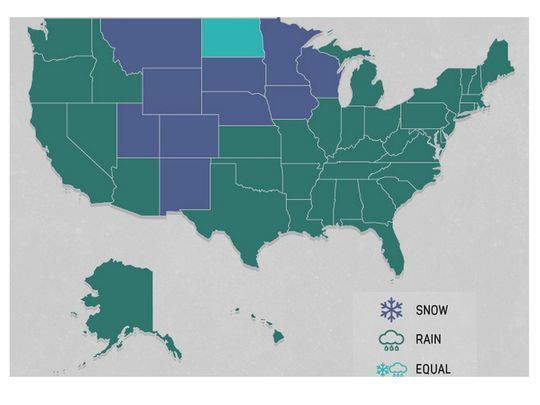 However, as it turns out, futuristic technology has a hard time keeping up with the demands of a fast-paced transportation system that implements a current infrastructure that was made for humans and not autonomous vehicles.
Autonomous Technology Face Technical Difficulties
The promise of autonomous technology is that self-driving cars will remove variables and uncertainties that come with human drivers and replace them with standardized technology. Fully autonomous vehicles will rely on advanced data systems and communication systems to help improve safety on all city roads and highways.
To help realize the ultimate goal of roadways safety, engineers are working to deploy more advanced technology to help onboard systems interpret their surroundings with more detail with greater accuracy.
Not only is inclement weather an issue that can impede onboard instruments from understanding the roads and their surroundings, as autonomous cars travel at fast speeds these vehicles need to be able to make split-second decisions.
Overcoming technical difficulties caused by severe weather is just one step that automakers and engineers need to overcome to reach their ultimate goal.
One way that automakers can isolate variables on the road is to use onboard sensors to regulate actions that the car can take in specific situations.
Adaptive cruise control can help cars regulate their speed in dangerous situations.
Onboard Lidar and Radar systems can sense a car's distance from other vehicles.
Technology to allow cars the ability to parallel-park themselves, and this will reduce disruptions to traffic systems in dangerous situations.
Ultrasonic sensors can keep track of close-range objects and help guide vehicles along roadways when visibility is low.
High fidelity mapping systems will provide additional insight for cars to use as they navigate through challenging environments.
One of the technologies that can provide information to autonomous cars that is not accessible to human drivers is constant, real-time data from GPS devices. This information will be essential for self-driving vehicles to navigate areas with extreme rain, snow, fog and other weather conditions.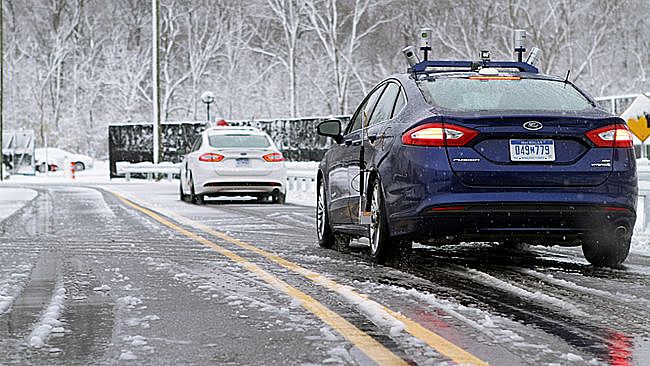 The only problem with GPS mapping systems is that they depend on accurate maps that are updated in real-time. GPS maps could have minimal benefits in areas like construction zones or other areas where the normal flow of traffic is disrupted.
Also, current mapping technology only allows for accuracy within a specific range of confidence, and since cars require exact information to navigate safely, other onboard systems will need to be integrated to ensure safe transportation.
Weather Conditions & Driver Safety
Winter driving conditions can be particularly challenging, as the FHWA reports that 24 percent of weather-related accidents occur on the snowy, slushy and icy pavement. Among the various ways that drivers are impacted by weather include:
Wind speed
Precipitation
Fog
Pavement temperature
Pavement conditions
Standing water
These weather conditions that impact driving for cars on public roadways is what major car manufacturing companies are trying to address. Automakers and engineers are working together, and this collaborative process is seen as Ford is one of the first companies to test driverless vehicles in the snow, and this took place on icy roads at MCity, where a real-world environment was simulated in the University of Michigan.
The only issue with this is that Lidar, the remote monitoring method these cars have, are not capable of sensing snow-covered roads. That's why the researchers of the University of Michigan and Ford came up with another way to resolve this issue.
3D maps can be created by the vehicle while driving the road. These maps could detect nearby landmark, road markings, signs, topography, and geography.
Aside from that, it can also aboveground markers to find the exact area when a snowstorm makes it impossible for human drivers or other onboard autonomous technology to travel in specific conditions accurately.
One of the best points of these 3D maps is that information created by each car can be shared across a network and help other vehicles learn about specific locations. One company leading the industry in this area is Civil Maps that develops sensors to provide context and in-depth information to cars. 
However, this data and sharing of that information will require a massive amount of data stored on local systems, and if cars want to share the data, they will need access to high-speed communication systems.
Waymon's Test Footprint and Fleet Are Growing
For those who are familiar with the Chrysler's Pacifica Hybrid minivan, the modern test vehicles being developed by Waymo are the altered versions of this.
These test vans were produced during the current collaboration between Fiat Chrysler Automobiles and Waymo that took place last year. Wherein the initial batch was available in the market last December, but only 100 vehicles were available, and 500 more will be available around April of this year.
For the past few years, Waymo has been evaluating their most recent vehicles in several states, such as Texas, Arizona, California, Washington, Nevada, and so on– these are the areas known for severe winter.
The company is trying to get relevant information that would allow them to determine what needs to be done and improved for the vehicle to work efficiently even in these places.
As automakers and engineers collect more real-time data from tests in environments with the various weather conditions, they will be able to develop systems that will help self-driving cars engage public roads more naturally and safely.
Self-Driving Car Technology Advancements For Driver Safety
It is in everyone's best interest to advance traffic safety and eliminate all traffic accidents and deaths on our roads. Not only will this improve America's economy, but it will also improve the quality of life for thousands of Americans each year.
One way that many technologists, automakers, and politicians think that the ultimate goal to eliminate all traffic incidents is through autonomous car technology. However, as it stands now, there are some several obstacles standing in the way of achieving this goal.
As engineers improve onboard systems for autonomous cars, automakers will be able to develop safety features for their line of automobiles. The future of public road safety looks bright as our self-driving car technology continues to improve and new improvements are implemented on our roads!
(Visited 4,665 times, 1 visits today)