The Aging American Infrastructure
During the 1950's and 1960's, America was investing in construction projects of all sizes to build up the Nation's infrastructure.
From Federal Highways and public utilities, America was known to have the best roads and transportation systems in the world.
However, today America is witnessing an era of highways that buckle under rush hour and bridges that are deemed unsafe by state engineers. As more construction projects pop-up on our public roads, we have seen an increase of usage of traffic safety equipment like hazard cones. However, this equipment is not enough to keep our roads safe.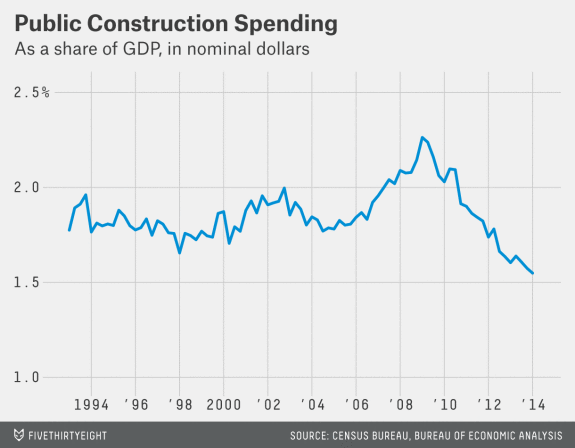 During their construction, builders did not anticipate the volume of traffic today's roadways would handle.
Vehicles are heavier than they were in the 1950's and 1960's, and some drivers have reached an all-time high. Along with increased usage, most of America's infrastructure wasn't designed for more than a 50-year lifespan.
Today, we see roadways and bridges that are over 100 years old and crumbling beneath our feet.
Current Day Infrastructure Disaster
Every four years, the American Society of Civil Engineers (ASCE) releases an assessment rating U.S. infrastructure by state. The most recent report was published in 2013, and ASCE gave an overall grade of D+.
The most startling piece of the 2013 ASCE report showed that the nation's 607,380 bridges were an average age of 42 years and that one in nine of the bridges in use today is rated structurally deficient.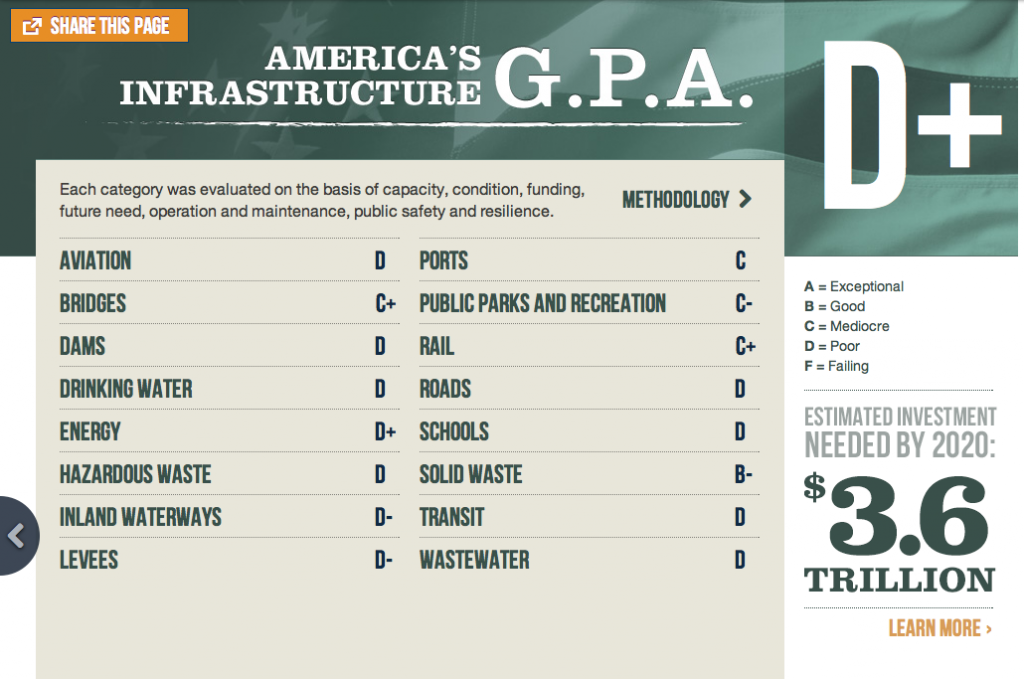 It goes without saying that each of us needs secure infrastructure to operate in our daily lives.
However, in the face of budgetary constrictions and political pressure, how can America begin investing the money required to improve infrastructure across America.
With the recent presidential election, the Trump Administration believes it can address the economic
An Administration Built On Building
Donald Trump is known for his focus on building infrastructure for his private companies.
Across the world, Trump has built hotels, casinos, apartments and golf courses that have built his business empire.
Today, as the leader of America, President Trump says that he wants to "build the next generation of roads, bridges, railways, tunnels, seaports, and airports."
The only one to fix the infrastructure of our country is me – roads, airports, bridges. I know how to build, pols only know how to talk!

— Donald J. Trump (@realDonaldTrump) May 13, 2015
Whether talking about building The Great Wall of Mexico or proposing new infrastructure projects, President Trump has leveraged mass construction projects as the springboard to drive his success throughout his political career.
Rebuilding America's Infrastructure
Donald Trump built his presidential campaign on the promise of rebuilding American jobs and infrastructure. This campaign promise was predicated on the history of building hotel chains, golf courses, and casinos across the world.
Trump has long supported infrastructure spending, and he doubled down in a campaign speech in which he said he would double the $300 billion plan of his then-rival Hillary Clinton.
The plan would cover improvements to American infrastructure, including:
Federal Highways

State Roads

Bridges
An interesting note about this proposed plan, which is set to reach $1 trillion investment, is that it would not call for tax increases to finance the projects.
Instead, the tax credit would be offered to private companies to fund the projects while these enterprises would take equity investments on the projects.
On his website, Trump describes his infrastructure proposal to help pursue an "America's Infrastructure First" policy to support investments in transportation and security infrastructures among other items.
His plan will accomplish this, according to his website, while also creating American construction and manufacturing jobs.
"Incorporate new technologies and innovations into our national transportation systems such as state-of-the-art pipelines, advancements in maritime commerce, and the next generation of vehicles."
While the details of the infrastructure plan still need to be discussed, Congress and the Trump Administration believe they will be able to fund massive construction projects across America.
When And How Will The Plan Be Implemented?
Donald Trump's infrastructure package will likely be put together within the first 100 days in office.
Republican Representative Bill Shuster (R-Pa.) said that Congress is working to find a way to fund the infrastructure plan during the first few months of his presidency.
"We're going to start to work on it, but first of all, you've got to figure out the pay-for, which will come, I believe, in the first 100 days," Shuster said Wednesday.
"Then in the next second 100 days is when we'll put together a big infrastructure package."
Many lawmakers say that this type of proposal will take the time to plan and budget.
Those early stages of discussion with various committees have yet to take place, and House Speaker Paul Ryan (R-Wis.) said that details about the proposal would be presented to the public in the spring.
Funding President Trump's plan relies heavily on private financing to secure construction projects. In a 10-page white paper posted on Trump's campaign website, last month showed private funding as the convenient tool for his infrastructure plan.
By offering $137 billion in federal tax credits, private investors who back transportation projects would be a catalyst for a total projected $1 trillion dollars worth of infrastructure investment in the next decade.
By offering $137 billion in federal tax credits, private investors who back transportation projects would be a catalyst for a total projected $1 trillion dollars worth of infrastructure investment in the next decade.
Essentially, this plan would privatize Federal Highways and other public works through equity investments of revenue generated through the projects.
While this makes riskier projects more palatable, it also introduces the risk of private company involvement and oversight on public goods.
Public-Private Partnerships To Renew America Infrastructure
Recently some states have experimented to bring investors to public works projects through public-private partnerships (PPPs).
The relationship is usually set up differently depending on the project, but the setup usually consists of several aspects, including:
Private firms bid for a project.

The winning bidder raises money from outside investors to design, construct, and operate the project for a set amount of time.

The firm investing in the initial project recoups costs through tolls or other payments.
In theory, this arrangement benefits the state, private investors, and the greater public good.
However, this sort of setup is rare, and according to the Congressional Budget Office, only 36 privately financed road projects have been completed over the past 25 years. Of those 36 projects, only 14 are complete, three have declared bankruptcy, and one required a public bailout.
President Trump's infrastructure plan proposes substantial tax credits for private investors in applicable projects.
The hope is that in these situations the tax break will lower the overall cost to finance projects, thus reducing the risk for private investors.
The ultimate goal is to have the initial seed fund of $137 billion in federal tax breaks to attract a total $1 trillion in infrastructure financing.
Randal O'Toole, a transportation analyst at the Cato Institute, favors privatizing infrastructure.
However, Mr. O'Toole sees several problems with President Trump's plan, including:
PPPs have seen success in countries like Australia, but President Trump's infrastructure plan incentivizes construction projects that are already profitable to invest in like power grids.
Governments fund infrastructure projects that are not profitable. This means that President Trump's plan could reduce or eliminate all risk or projects that don't make money in the accounting books.
Will PPP's Drive Or Block America's Infrastructure Future?
Overall, PPPs seem like a good idea at all levels. However, many people generalize the conversation of infrastructure, and many people overemphasize the role that the federal government has in rebuilding infrastructure.
In reality, the federal government has little impact on the spending and consequences for public infrastructure projects.
The use of PPPs to accomplish national infrastructure projects is an unconventional approach to an ongoing and unresolved crisis.
Instead of talking about infrastructure as an engineering prospect, President Trump's proposed policy makes support an economic investment.
Leveraging the free market, PPPs hope to provide the necessary funds and resources needed to repair our crumbling infrastructure across the nation.
Bridging The Gap For American Infrastructure Development
While there are arguments for and against President Trump's infrastructure policy, few can argue that America needs to address the crumbling infrastructure that our economy is built on.
Even though there is little doubt that this type of legislation is needed, many question the ability for President Trump and Congress to come to an agreement and pass the kind of laws.
The scope and breadth of such legislation go beyond traditional federal policies because it will include private company involvement throughout the funding and building process.
We will see within the first 100 days is President Trump is able to orchestrate the dynamic political and economic environments to bring his infrastructure policy to fruition.
Either way, America is between a rock and a hard place, and as our infrastructure continues to dissolve around us we risk having our economic backbone stripped from beneath our feet. 
(Visited 535 times, 1 visits today)