If you live in or near an urban area, then you have likely started to see more electric scooters around your city. Whether you see them parked near local restaurants or buzzing down side streets, you are sure to see more e-scooters as startups start to introduce scooters to fulfill the sharing economy.
The popularity of electric scooters is growing as commuters look for new ways to save money while also arriving at their desired destination. Electric scooters offer several benefits for commuters and the environment, but they also provide several hazards when operated in heavily trafficked areas.
Since electric scooters don't look to be going away anytime soon let's take a look at what is causing their adoption and some issues that cities may face in the future.
Why Are Electric Scooters Becoming So Popular?
Electric scooters have grown in popularity because they offer a convenient way for commuters to travel between locations. Similar to other forms of transportation like bikes and mopeds, electric scooters provide independence and convenience for commuters.
However, electric scooters have even more benefits because they can be folded up and carried around town. This makes scooters the perfect solution to finish the last mile of a commute that includes public transportation.
In dense urban areas, commuters are finding that cars are not the fastest mode of transportation between destinations. Whether sitting in traffic or fighting through road construction, drivers are trying to find better options to travel throughout the day.
Electric scooters are the perfect solution for urban living because they are lightweight, compact, and foldable. Since the scooters are portable, people can fold them up and bring them on the bus or train with them, and then bring the scooters into their office with them throughout the day.
Along with daily use, electric scooters are also an excellent option for recreational use. Beach towns and cities that have lots of tourism can also benefit because this audience wants to experience different locations without any downtime.
Could Electric Scooters Be Dangerous For Drivers & Pedestrians?
A recent study by the Journal of the American Medical Association Network Open (JAMA) showed that e-scooters sent 250 people to the emergency room in the Los Angeles area between September 1, 2017 to August 31, 2018.
Most of the injuries caused by e-scooters involved head injuries, several of the recorded incidents were categorized as serious head injuries. In fact, two of the incidents were so severe that those riders were sent to the ICU.
In all, the researchers found that 250 people were sent to the hospital during that time, and this stands out compared to the 100 people who were injured while operating a bicycle during that same time.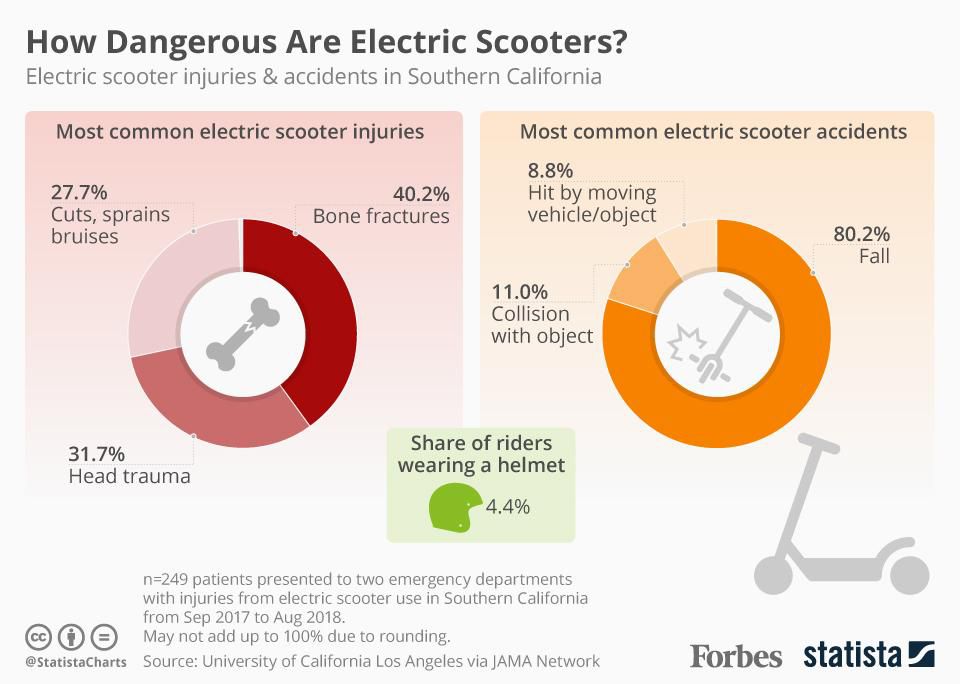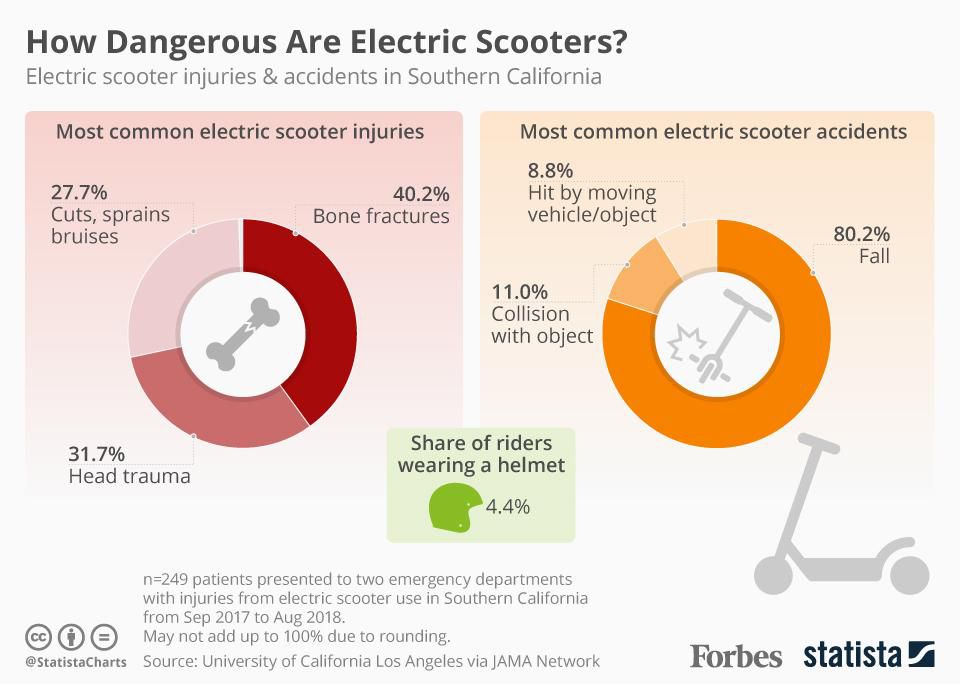 Injuries caused by electric scooters show similarities to bike accidents, but e-scooters stand out due to the constant speed that scooters can sustain. Plus, e-scooters have a smaller profile than a person operating a bicycle, and this can lead to more collisions with vehicles and pedestrians.
Companies like Lime, Bird, and Spin are companies who are promoting their ride-sharing programs with scooters. These companies are developing comprehensive safety programs to help keep their customers safe while operating a scooter.
One program is lead by Lime, and in their e-scooter safety program, they provide information about wearing a helmet and show riders how to abide local traffic laws.
The Questionable Future Of Scooters
It is no secret that e-scooters have seen substantial growth in the past few years. While this mode of transportation offers an inexpensive and convenient way to commute, the future of scooter-sharing programs still has a lot of questions around the future.
Companies like Lime and Bird will need to overcome several obstacles if they want to grow a sustainable business model.
The companies will need to find a viable way to increase revenue, while also absorbing costs that come with maintaining the scooters and their charging stations.
Customer loyalty will play a significant role in the viability of scooter-sharing programs, and we already know that customers show little loyalty when using ride-sharing programs like Lyft and Uber.
As a result, scooter-sharing companies will see lower profit margins and increased costs if their customers do not choose their services frequently.
The scooter industry will continue to see increased demand as customers integrate this mode of transportation into their daily commute. However, scooter-sharing companies will need to navigate through local government regulations and aggressive competition.
City officials will need to balance public safety along with accessibility options for residents just like they have in the past with other emerging technologies. Be sure to get involved with local government and city meetings if you want to help guide the future of electric scooters on public roads!