Safety Vests Make Work Zones Safer & More Efficient
Personal Protective Equipment (PPE) plays an essential role to keep worksites as safe and efficient as possible, and this type of clothing is crucial for the well-being of workers in many industries.
High-visibility safety apparel helps keep workers safe in different weather conditions and times of the day to provide an extra layer of safety, even in low light conditions.
While PPE offers a number of benefits for work crews, safety vests have become one of the most popular hi-vis gear due to their functionality, low cost, and effective design. 
These products are often produced with mesh or another lightweight fabric for ease of use, but some high-visibility clothing is also made for cold weather. Regardless of the material or end use of the PPE, hi-vis clothing reduces the risk of accidents and improves the overall safety of workers in a given area.
Construction workers, emergency responders, firefighters, and police officers are just a few of the professionals who rely on hi-vis clothing to decrease the risk of injury while also having the peace of mind to perform a given task.
Since this safety equipment plays a significant role in so many areas of our lives, let's take a look at the history and evolution of high-visibility safety equipment like safety vests, reflective tape, and other workwear.
The History Of Safety Vests & High-Visibility Apparel
High-visibility clothing was created by Bob Switzer in the 1930s after he was hurt while unloading crates in Berkley, California. Mr. Switzer's unfortunate injury damaged his eyesight, and this prohibited him from pursuing his dream of becoming a doctor.
After the incident, Mr. Switzer set out to create a solution to improve the safety of job sites and prevent unnecessary injuries as he had endured.
To help make the mission successful, his brother Joe, who had been researching fluorescent chemicals for several years. Together, the brothers used Joe's knowledge of the chemical uses with Bob's understanding of the workplace to begin developing early prototypes of reflective materials.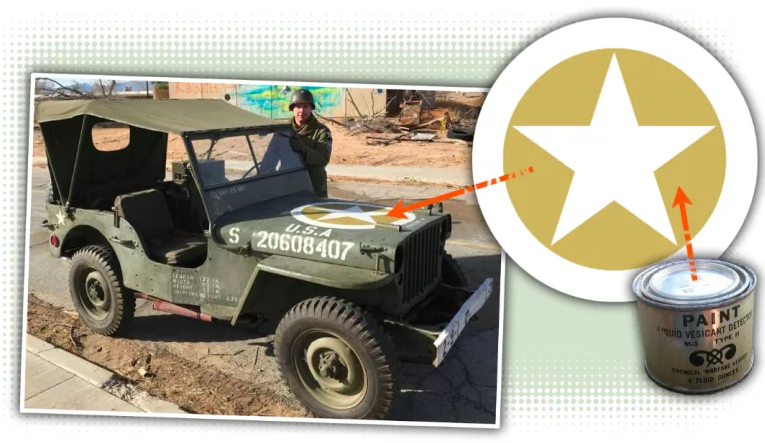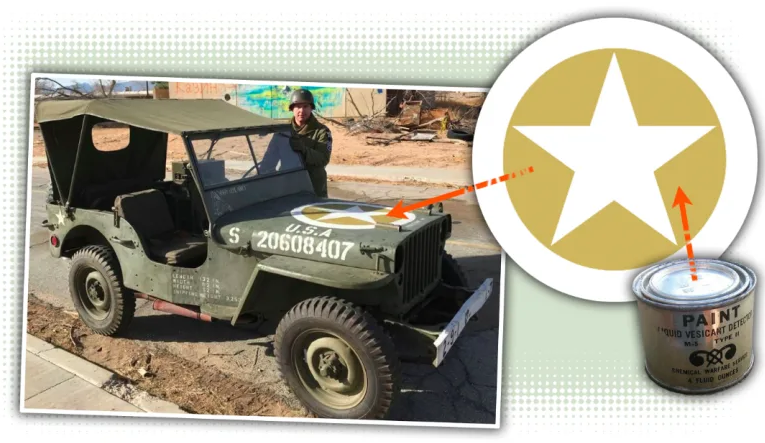 After lots of experiments and tests, Bob and Joe produced the first fluorescent paint, naming it "Day-Glo" because of its ability to make materials shine like they were glowing in daylight.
Once the brothers found a stable and safe mixture, Bob applied the newly invented "Day-Glo" to his wife's wedding dress. This application of "Day-Glo" paint the dress created the first piece of high visibility clothing that we know today.
Along with being applied to working clothing to improve public safety, the brother's fluorescent paint also saw great success when applied to movie posters and other marketing materials.
The Switzer brothers saw rapid adoption of their "Day-Glo" paint technology after they started improving the formula and spreading the word of their new invention. However, it was not until World War II that their impressive creation really started to grow in popularity and realize the full impact it can have on public safety.
The Growth Of Reflective Material Popularity During WWII
The U.S. Army experienced a high frequency of friendly fire during the war, especially in urban combat zones at night. Often times, soldiers would get confused on the battlefield and due to the dynamic nature of the war zone, many friendly troops would lose track of their position.
As a result, the U.S. government knew that they needed a way to increase a soldier's visibility while also reducing the friendly fire.
The Switzer brother's invention was adopted by the U.S. military as fabric panels were dipped in the reflective paint. Soldiers with these unique pieces of fabric could signal to airplanes far above them to signal to pass crews of their presence.
Aircraft crews also started to wear high visibility safety vests and pants as they directed planes on landing strips and air bases.
The reflective material even found a place out on the open oceans, as the navy used buoys with the reflective strips to signal that a body of water was for ships to pass in.
While the technology behind high-visibility PPE has changed, the primary purpose behind this safety gear remains similar to the original products. High-Vis PPE is meant to improve safety for individual workers while reducing the likelihood of injury while on the job.
The most popular type of safety apparel has become high-visibility vests due to their functionality and comfort for operators in different environments. Here are some of the most popular high-visibility jackets that are available for workers who operate in different situations.
Different Types Of Safety Vests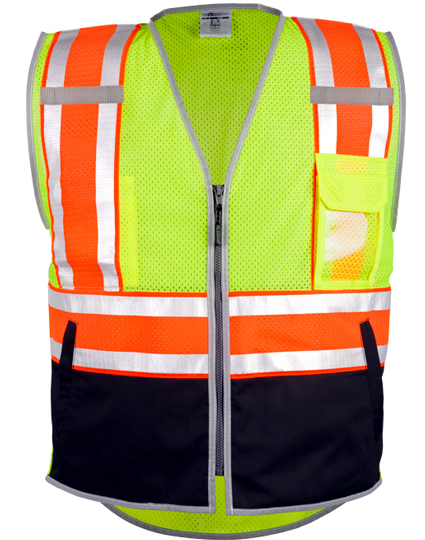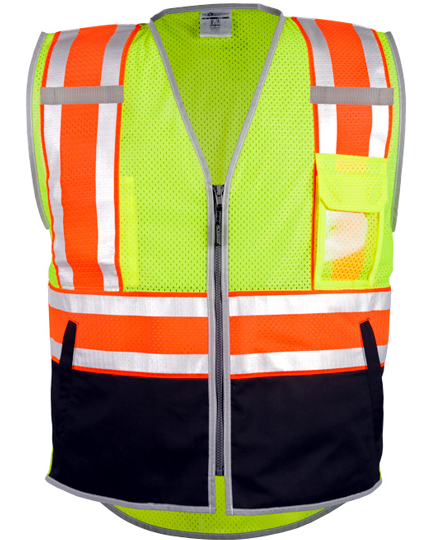 Class 2 safety vests are designed to be worn by workers who are performing tasks and working in environments that pose some level of risk. These workers are usually operating on a roadway where vehicles are traveling below 50 MPH, and these types of high-visibility equipment are designed with more reflective areas on the vests.
Specifically, a Class 2 safety vest needs to have at least 775 inches of safety orange/yellow background material and 201 inches of reflective striping. Workers who wear this level of safety vest typically include survey crews, school crossing guards, parking lot attendants, and airport baggage handlers.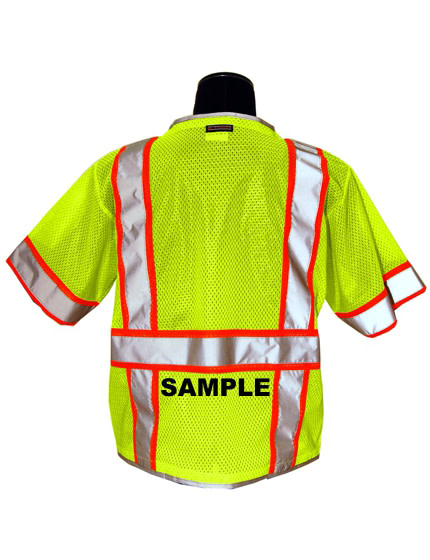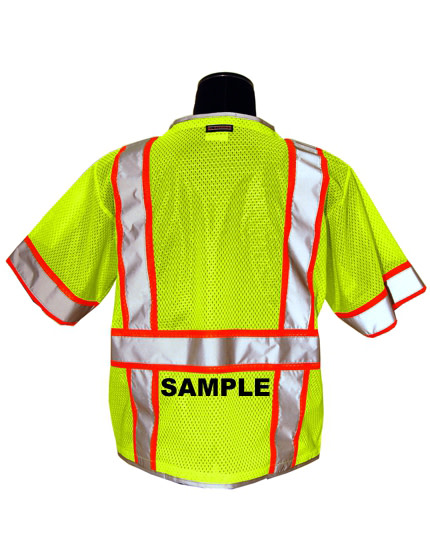 Class 3 safety vests are often worn by workers who operate in the most dangerous environments due to low lighting and the highest chance of an accident occurring. These environments typically have the most moderate visibility due to the environment or operations in the area, and workers must wear a Class 3 safety vest when working on roadways, where traffic travels above 50 MPH.
Class 3 safety vests require 1,240 inches of yellow/orange background material and 310 square inches of reflective striping. This type of hi-vis apparel looks more like a shirt than a vest and is often worn by emergency personnel, tow truck drivers, and even truck drivers.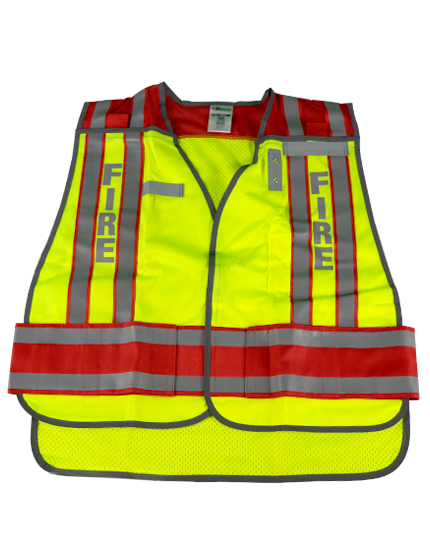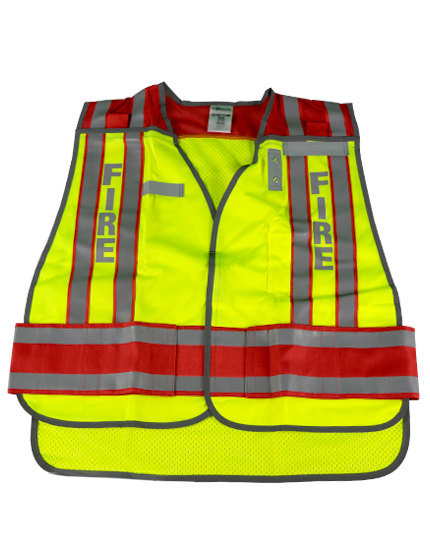 ANSI 207-2011 Public Safety vests are specially created to offer accessibility and movement for law enforcement personnel and other first responders. Since this PPE is worn by individuals operating in dangerous situations, the ANSI 207-2011 safety vest must have at least 450 square inches of background material and 201 square inches of reflective material to ensure the safety of its operators.
Along with additional reflective material, public safety vests also include deep pockets, mic tabs, and adjustable sides to allow for more functionality and a customized fit.
Police: Blue
Sheriff: Brown & Black
Fire: Red
EMS: Green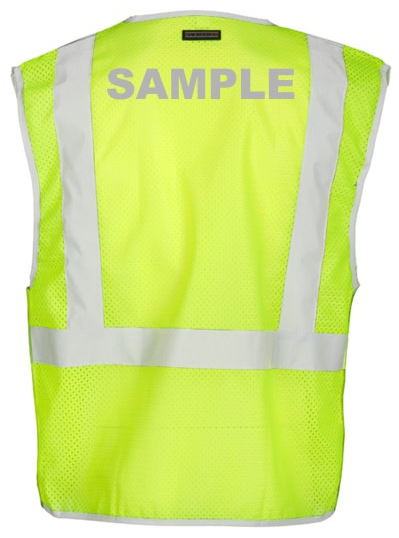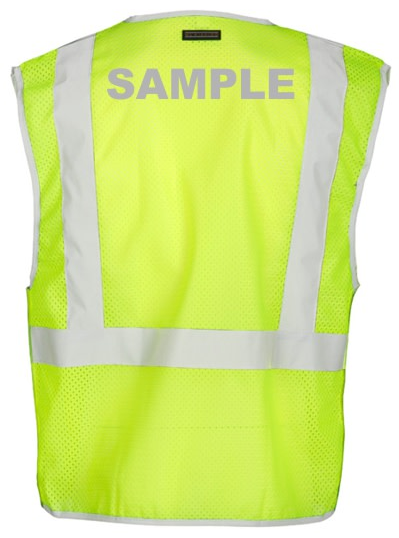 Breakaway safety vests are similar to other safety vests, but this type of PPE is specially designed to allow for easy removal. Operating in conditions like a construction zone or near industrial machinery can pose potential snag hazards, and this safety apparel easily breaks apart to prevent physical damage to the wearer should the vest get snagged or stuck.
Like other safety vests, a breakaway vest is an available in mesh fabrics, flame resistant material, and various adjustment options to be worn more comfortably by the operator.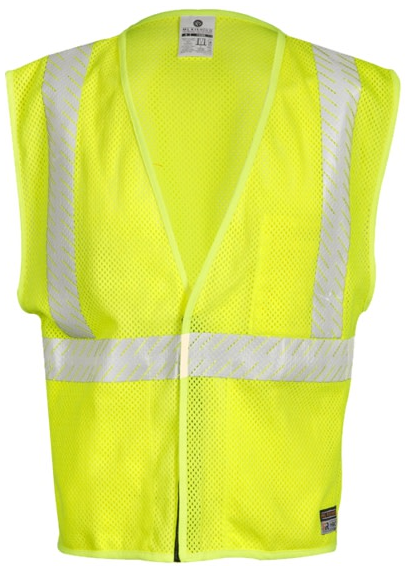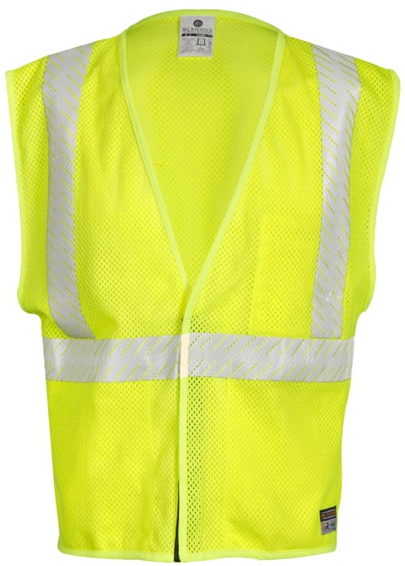 Flame resistant safety vests is an appropriate level of high-visibility clothing that meets specific FR standards to reduce confusion in the market.
While there are several levels of type-R vests like ANSI 107 and ANSI 207, all flame resistant hi-viz vests must provide minimum material performance standards when they come in contact with heat sources, electrical arcs, and open flames.
Finding The Right Safety Vest For Your Needs
There are many types of safety vests to choose from, but the right safety vest depends on how and when you will use it. Be sure to check regulations in your industry to ensure you choose the right traffic safety vest before purchase. 
Feel free to contact our team if you are not sure which safety vest is right for your project or team. We are standing by to speaking with you, so contact us today!