If you're riding with cars or venturing into the great outdoors during hunting season, wearing eye-catching clothing is more than a best practice. It can be the difference between a good time and an accident. Lightweight, breathable high-visibility safety wear — which runs under $20 and can cost as little as $5 — is the only gear developed and tested by the American National Safety Institute (ANSI) to ensure high speed motorists see you. No other apparel is backed by government regulations. Plus, most items adjust to multiple layers so they can be worn in all climates and seasons. There's several options so choose something that fits your activity and habits. Once you've made your selection, Traffic Safety Store will add the logo of your local coalition, club, organization or business for no added set-up fee. We can also screen print original artwork, graphics or personal slogans. Bicyclists, for example, can use the backspace to print a messages to cars, such as "Sweat Not Oil," "Careful, I'm Breakable!," "When Passing, Leave 4 Feet" or "Pass With Care." Please Note: Most safety gear comes in larger sizes.
Clothes For Your Bike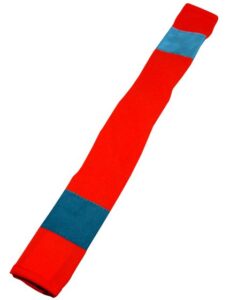 High visibility
reflective wraps
fit around handle bars, bike frame, bridal reins, dog leash, stroller handles, and other sports equipment.
Option 1: Minimalist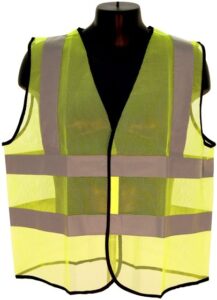 For most year round cycle-commuters and light evening joggers, this bare-bones option will suffice. The
super saver vest
, as it's called, provides an extra fine layer of fluorescent color with reflective striping on both sides. Mesh material lets air pass through, so it won't constrict or slow you down. Drape it over a skimpy summer outfit or a puffy down coat. Because you wear it over your clothes, the garment requires only occasional washing.
Option 2: Economy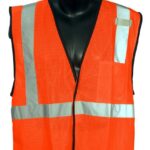 Equally lightweight and low maintenance — but with a solid finish — the
economy safety vest
stands out in the natural environment. The perfect visibility tool for hikers, horseback rides and boaters who share the great outdoors with hunters. Comes with exterior side pocket. Also good for people who ride a motorcycle/scooter or walk their dog at night.
Option 3: T-Shirt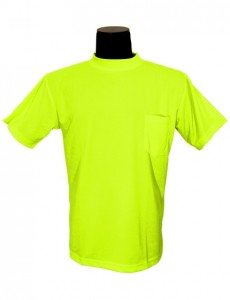 Safety T-shirts
are more fitted and made from microfiber, which whisks away your sweat and helps cool you down by providing excellent ventilation. They cost less than most tops sold by your local retailer. Plus, instead of carrying someone else's logo, you can send us original images and graphics to print in black or reflective ink. A solid choice for joggers, distance or competitive cyclists, skateboarders, and anyone else who's athletic hobbies put them in close contact with traffic. Optional
reflective stripes
for nighttime use.
Option 4: The Works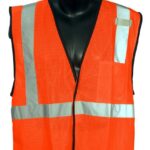 If you're a distance rider who doesn't want to wash your outerwear after every ride, consider the
adjustable class 2 vest
. The velcro waist closure fits to your form and can be adjusted to make room for winter layers. It zips up in the front, plus it's got an interior iPhone holder and plenty of pocket space for snacks.