With weather warming up, more people are on the streets.  Traveling by foot might be a wiser and healthier option, but it's not always safer.
Seventy-thousand pedestrians are injured — and more than 4,000 die — in automobile collisions every year.  While this is only a slither of the vehicle-accident total, it's a disproportionate amount: Eleven percent of transport (disregarding miles traveled) happens by foot, but pedestrians are involved in 13 percent of vehicle-related fatalities (Source:
National Highway Traffic Safety Administration (NHTSA) Traffic Safety Facts
) . Although drivers are legally responsible for controlling their vehicle at all times, the majority of pedestrian accidents are caused by pedestrian actions. Sunny days — where more people are outside– rack in 90 percent of incidents. Age is also a factor – seniors over 65 and children under 15 account for a combined 27 percent of fatalities and 34 percent of injuries. (Source: NHTSA Traffic Safety Facts ). Here are some culprits: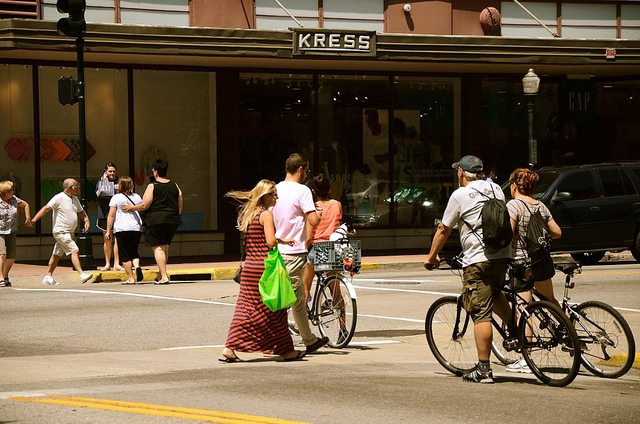 1. Improper Lane Use
The vast majority of pedestrian accidents happen in the road with two-thirds occurring on city streets.  A bike riding on the sidewalk can hit pedestrians or force them onto the road.
 2. Unmarked Crosswalks
Intersections are a hotspot for pedestrian accidents. Using signaled crosswalks dramatically reduces the risk. Clearly marked pedestrian pathways are vital at or near parking lots because drivers are less likely to see people when they're focused on parking.
3. Left-Hand Turns
While safer, signaled crosswalks aren't immune to vehicle-pedestrian collisions. Three times as many people get hit by cars turning left than by cars turning right because both parties are looking elsewhere: The drivers are busy negotiating the intersection and street-crossers are looking straight ahead
4. Electronics
The no-texting rule isn't only for drivers.  A recent study by NYU Langone Medical Center on New York City pedestrian accidents found eight percent accidents occurred while the victim was using electronics including cellphones, and music devices. The study also found a substantial number of accidents occurred from passengers exiting vehicles on the roadway side.
5. Quiet Cars
While ideal for neighborhood peace, battery-operated automobiles and hybrids are 40 percent more likely to strike pedestrians – who detect oncoming traffic with their ears as well as their eyes – than their gas-guzzling counterparts. The risk jumps to 50 percent in residential areas, where the speed limit is at or below 35mph and stops and turns are more frequent.  (Source: NHTSA)
6. Dark Clothes
Nearly 50 percent of all pedestrian accidents happen on the weekends and 70 percent happen at night. (Source: Insurance Institute for Highway Safety (IIHS))After the sun goes down, bright and lightly colored clothes are easier to spot– critical in less populated stretches with poor street lighting. Pocket flashlights are also a good idea for night-prowling.
7. Alcohol 
Substance use, no doubt, contributes to the nights-and-weekends accident spike and drivers aren't the only responsible party. Thirty-seven percent of fatally injured pedestrian have blood alcohol concentrations of at least 0.08 percent. Intoxicated drivers, by comparison, are involved in 13 percent of pedestrian collisions. (Source: IIHS-Highway Loss Data  Institute)
8. Arterial Roads
 As cities draw more and more people, multi-lane,  high-speed roadways are increasingly necessary to move traffic to and from the freeway. Unfortunately, these sites are also hazardous to the densely populated areas they serve, where walking is commonplace and bus stops are plentiful.
Some of these accidents are also caused by poorly marked construction zones. One way to help signal drivers is by using lots of road cones and other hazard markings.
According to a 2010 report by University of North Carolina's Highway Safety Research Center, the majority of urban pedestrian accidents happen in these roadways.
Image Source: Sarah Baker on Flickr, https://www.flickr.com/photos/sarahbaker/