Securing Pedestrian Safety
Traffic accidents continue to be the leading form of death in the United States, and this trend continues to climb in our city streets. As more people walk from place to place to save money or stay fit, local policymakers are starting to see a dangerous pattern where walking in urban environments is getting more dangerous each year.
From 2014 to 2016, the U.S. saw a continued increase of pedestrian deaths resulting from traffic accidents. In a recent study, the Governors Highway Safety Association estimates a 22% increase in pedestrian deaths from 2014 to 2016.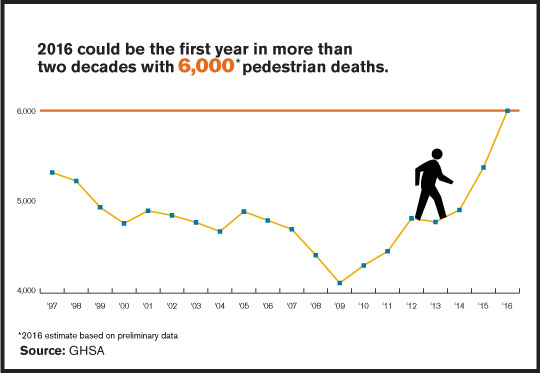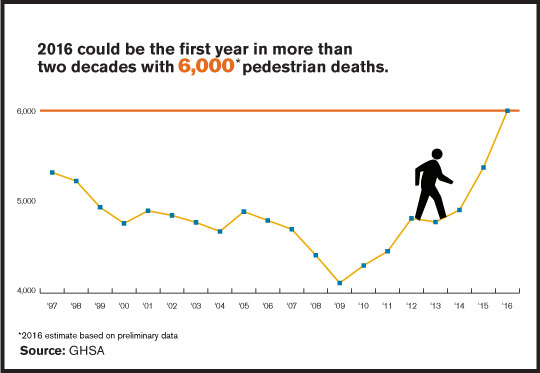 These numbers are staggering and highlight the need for city planners to implement initiatives to improve safety factors on city streets to ensure pedestrian safety. As lawmakers create policies for drivers and pedestrians, we need to consider the best ways to ensure pedestrians and driver safety, along with the economic impacts of those decisions.
What Is Driving Pedestrian Deaths In The U.S.?
The staggering growth of pedestrian deaths in the U.S. is the result of several factors. Just as a modern city is a system of complex elements interacting with each other, so are the reasons for pedestrian deaths in urban environments. Here are the four leading factors that are driving the current dangerous environments for pedestrians.
More American Drivers: As the U.S. economy continues to improve, gas prices remain low. This means that urban residents tend to drive more miles each week.
More Americans Walking: As Americans choose to walk for health and environmental reasons. This means that more residents are crossing streets and interacting with drivers on city roads than ever before.
Poor Road Design In Large Cities: Since densely populated areas tend also to be older cities built decades ago, the street design of these areas tend to have a poor street design. The poor street design is one of the vital factors behind pedestrian accidents.
Smartphone Technology: The adoption of technology is one of the leading factors for both drivers and pedestrians to be distracted as they operate a vehicle or cross the street. While mobile games and social media prove to be the leading causes of distraction in both groups, texting while driving and walking continues to be a leading factor for deaths on U.S. roads.
The Most Hazardous Places for Pedestrians in the US
As we have seen above, several factors are working together that could be making our urban roads more dangerous for pedestrians. Local policymakers are working to improve pedestrian safety, but recent years have shown the rate of pedestrian accidents keeps increasing each year.
Here are some of the most dangerous areas for pedestrians:
Memphis, Tennessee
Jackson, Mississippi
Tampa-St. Petersburg-Clearwater, Florida
Lakeland-Winter Haven, Florida
Delton-Daytona Beach-Ormond Beach, Florida
Jacksonville, Florida
Orlando-Kissimmee-Sanford, Florida
Palm Bay-Melbourne-Titusville, Florida
Cape Coral-Fort Myers, Florida
McAllen-Edinburg-Mission, Texas
Baton Rouge, Louisiana
Riverside-San Bernardino-Ontario, California
Detroit-Warren-Dearborn, Michigan
Phoenix-Mesa-Scottsdale, Arizona
Houston-The Woodlands-Sugar Land, Texas
Little Rock-North Little Rock-Conway, Arkansas
Birmingham-Hoover, Alabama- Bakersfield, California
Miami-Fort Lauderdale-West Palm Beach, Florida
North Port-Sarasota-Bradenton, Florida
While these cities prove to be the most dangerous locations for pedestrians, the U.S. sees an increase of pedestrian deaths across the nation. Let's take a look at the current state of safety for pedestrians in the U.S.
Pedestrian Deaths On The Rise Across The U.S.
In total, the GHSA report shows that more than twice as many states reported an increase of pedestrian fatalities in the first half of 2016 alone. Thirty-four states saw an increase in pedestrian deaths, while only 15 states (and the District of Columbia) reported a decrease of pedestrian deaths in that same period. Just one state saw no change in fatalities and injuries in that time.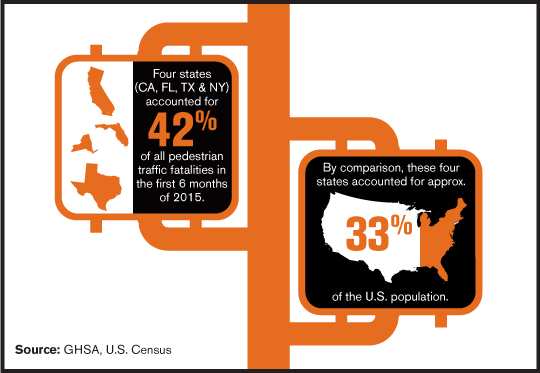 Based on statistics, Florida is considered to be one of the most dangerous places in the U.S. The GHSA committee does not detail the causes of this trend, but some elements that should be considered for Florida's hazardous roadways include high tourism rates, a healthy economy, and the dramatic seasonal influx of snowbirds.
Smart Growth America tried to analyze the data from 2005-2014 with hopes that it would help them determine why pedestrian deaths keep on increasing. Based on the data they gathered from the federal government sources, they aim to calculate the Pedestrian Danger Index and be able to compare pedestrian safety in several cities based on their density, size, rates of walking, and location.
Based on this report, Smart Growth America showed that most pedestrian deaths are found in densely populated areas. This makes sense as highly populated locations tend to have more pedestrians traveling throughout a smaller area, and the density of vehicle traffic is also much higher in these areas.
Lately, some of the most prominent cities, such as Los Angeles, New York, Washington, Boston, Chicago, and Austin, have launched a project known as "vision zero.' Its purpose is to reduce pedestrian deaths and entirely avoid it after a time.
Technology That Could Reduce Traffic Accidents
While technology continues to distract pedestrians and drivers, companies are working with local lawmakers to integrate emerging technology to improve safety for all residents. These initiatives aim to impact specific demographics that are more susceptible to injury, including the elderly population, blind pedestrians, and teenage drivers.
It's always a struggle to balance the need for accessibility to technology to improve quality of life, while also limiting any negative impacts that this technology can have on pedestrian safety.
One company leading the charge to improve our city streets for pedestrians is Siemens. In cooperation with the Technical University of Braunschweig, Siemens is creating a system to help guide blind pedestrians across busy intersections.
Utilizing audible cues and interacting sensors, Siemens has created a system called InMoBS to help coordinate pedestrian traffic with data transmitted between traffic infrastructure. This method can be utilized by all pedestrians, but it is especially beneficial for blind pedestrians.
As pedestrians approach a crosswalk, data will provide real-time communication between the traffic lights, the approaching pedestrian, and any vehicles in the surrounding area.
Leveraging existing technology, pedestrians will be able to use their barrier-free smartphone apps to navigate throughout the city– this has been possible with the help of digital maps and GPS. For the InMoBS project, it would be used as a form of assistance that would give the users an online route planner that they can utilize to locate their home and arrive there safely.
Along with helping to reduce pedestrian deaths, InMoBS is also believed to help prevent traffic jams. As drivers have access to real-time data, they will be able to avoid high-risk areas, and this could reduce the total number of traffic accidents throughout the year.
Using Technology To Make Our City Streets Safer
As city planners and technology companies continue to work together to make our city streets safer, we need to keep our local policymakers accountable for the safety of our roadways. As urban environments continue to grow, densely populated locations could see a spike in pedestrian deaths throughout the coming years. This means that we will need to find new ways to integrate interactive technology with existing traffic equipment to keep all residents safe!