A new European bike track is proving bikers, pedestrians and cars can safely share the road, and like it.
"It almost looks as if these people are riding a race, rather than going home after work. They're trying to outrun other traffic.  It really seems like a chase. There's a lot of cycling here despite the infrastructure, rather than because of it."
– Cycling in the U.S. from a Dutch Perspective For all their bickering, urban cyclists and motorists agree: There's not enough room on the road. Cars meander into the bike lanes and bikers weave in and out of traffic, ignoring safety signals. Adding an obstructive median to segregate traffic – an increasingly popular solution – just eats up more space. Thankfully, transport designers in London, U. K. have found a better way. This past month, they completed
a full redesign of Camden's Royal College Street
— a main thoroughfare — and replaced thick concrete strips with ultra-thin 
zebra lane delineators
. The pioneering solution has helped them design the country's first "
Dutch-Style
" bike track. It's fast becoming a model for quick, affordable, cycle-friendly design.
We all need better bike tracks. London got one.
Cities across the U.S. – and around the world –are seeing a steady increase in bike traffic and with it, bike accidents. London is no exception. Current estimates by the
Camden Council
suggest Royal College Street gets over 11,000 cycle trips per day. Even with concrete dividers, the road has had 17 major vehicle-bicycle collisions in the past three years, resulting in several injury cases. That was the recorded total. Cyclists are notorious for under-reporting accidents. Furthermore,
a speed study by Camden's  Transport Strategy Design Team
 indicated cars were traveling Royal College Street at 30 miles per hour (mph) — well over the 20 mph speed limit. Residents complained of feeling unsafe. The new design needed to be inexpensive and easy to implement. Yet, Royal College Street is just one of countless London roads traveled by a rapidly increasing number of cyclists. The planners charged with its redesign wanted a solution they could customize to fit a number of urban roadways. That's why they chose zebra delineators.
Zebra lane delineators (sometimes called "armadillos" or "rumble strips") are raised pavement markers. They are made from post-consumer PVC plastic and  molded into a ribbed hump that can be used to bolster the boundaries of a traffic lane. They might be small (zebra delineators come in two sizes, the larger is 5-inches-tall, 8-inches-wide and 32-inches-long) but this safety apparatus effectively offers a two-part solution — a physical barrier and a visual signal — that keeps drivers out of the bike lanes. Before the redesign, Royal College Street had just enough space on the east side of the road to cram two narrow bike lanes — traveling in opposite directions — into a single track. Cyclists had to tread, single-file, against opposing bicycle traffic.   If one cyclists needed to pass another, they were forced leave their lane and risk collision with an oncoming bike. When buses stopped to pick up passengers,  bikes got stuck in line.
Cars, moreover, continued to be a threat.  Vehicles approaching Royal College Street from an east side street would see the northbound bike lane immediately, but they didn't always see the southbound lane behind it. This circumstance led to the majority of recorded bike accidents. After replacing the concrete strip and regaining over a half meter of road width, Camden planners moved the southbound bike lane to the other side of the street, making the cyclists more visible to east-approaching drivers. The newly segregated bike lanes were also widened from 1.25 to 2.0 meters, giving bikers in both directions adequate room to pass without veering from their designated lanes. The change has enabled further safety modifications. Parking, for example, is now consigned to the west side of the Royal College Street and borders the southbound bike lane. The cars parked there act as an additional layer between cyclists and oncoming vehicle traffic. When parking, the drivers face oncoming cycle traffic so they are less likely to "door" — open their car door on to an unsuspecting cyclist – which is the most common type of  bike accident.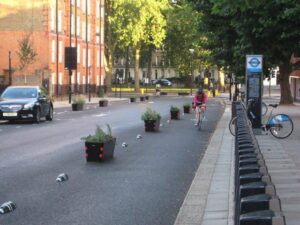 With delineators dotted along the dividing line, Camden planners began experimenting with aesthetics, adding rectangular planters, stuffed with flowers and shrubbery, on the edge of the bike lane. The newly beautified road, combined with a pared-down vehicle space, has calm traffic. Cars are now traveling at 20 mph and officials have removed speed bumps. Best of all, London's transit officials accident-proofed a central urban roadway for just £50,000! Even after a lengthy interruption from an unrelated water pipe issue, construction took just a few months. It's still early but Camden cyclists already report a smoother, more comfortable ride on Royal College Street. A greater number are  entering the newly accommodating road, according to the
Camden Cycling Campaign (CCC)
, the Camden borough branch of the activist group 
London Cycling Campaign (LCC)
.
But are Zebra Delineators really a safe replacement?
The use of zebra delineators is considered "light segregation." Instead of bulky, visually-obtrusive barriers, light segregation offers a traffic mitigation strategy that's comparable to — or better than — traditional methods without major disruptions or a big price tag.
The additional space is great, but how can an 8 ¼-inch wide zebra delineators replace 0.70-meter concrete dividers? It might seem counter-intuitive, but zebra delineators can actually improve safety. Unlike concrete or similar obstructions, the product was specifically developed to mitigate different types of traffic in a range of scenarios. Safety points include:
Effective physical barrier. These low to the ground delineators (3.50 or 5.0 inches high), keep cars from veering or turning into the bike lane. The humped-shape corrals stray cars back into the vehicle lane and the  zebra-stripes indented on the surface ensures maximize tire friction which will cause the car to slow down if it goes to far.
High visibility — especially at night. When it's dark out, vehicle headlights illuminate the reflective zebra stripes. Since most bike collisions are caused by the driver's failure to see the cyclist, increased visibility is key to safety.
A safer option for cars. It's made from recycled PCV plastics, so zebra delineators absorb impact – a colliding car "bounces" off it. Hitting a cement islands or curb, by contrast, can cause a car to spin out of control.
Sturdy and lasting. Zebra delineators are securely bolted into the pavement with 12-inch steel spikes and 8-inch anchors. Before recommending them, Camden Council tested the safety product by moving a heavy-duty vehicle over-top. The delineator was structurally unaffected.
Flexible and accommodating. Unlike median strips, zebra delineators can be spaced apart, allowing bicyclists to move to or from the bike lane with ease. Pedestrians just step over them. Likewise, zebra delineators can be laid out in different protective arrangements: Width-wise in an "oblique" arrangement or length-wise and "parallel" to the street.
Better road view. Because they are low to the ground, zebra delineators allow cyclists, drivers, pedestrians, buses, and intersecting traffic to see the entire street. Delineator posts, by contrast, block the travelers view making them more vulnerable to peripheral danger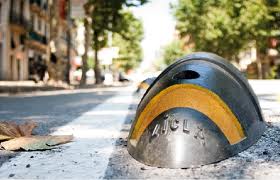 Zebra delineators first entered the market in 2009. They're designed and produced by
Zicla
, a company from Valencia, Spain that specializes in innovative, recycled products for the traffic safety industry. The fabricators squeeze up to 21 lbs of heavy-duty PVC plastics — sourced from post-consumer wire casings, roller blinds and pipes – into a delineator. A single unit has carbon-saving power equivalent to 20.50 miles or 34 kilometers of driving. These stats have earned zebra delineators several environmental distinctions including the Environmental Quality Assurance Award, and a 2011
"Best Recycled Product" award by European Association of Plastic Recycling and Recovery Organizations
(EPRO). But the benefits of compressed, recycled plastics aren't strictly environmental. The material also makes these delineators exceptionally tough, flexible and capable of enduring extreme punishment including acid exposure and weather abrasion.
More cities are choosing to "Go Dutch"
According to the video, Cycling in the U.S. from a Dutch Perspective, a cyclist is 30 times more likely to get injured in the United States than in the Netherlands. That hasn't slowed bike culture down. Mayors stuck in the middle of the bike-car feud can crack down on cyclists by tagging bicycles and emphasizing penalties for traffic violation. Or they can attempt to meet new demands by adding signage and supporting bike shares.
The London Cycling Campaign (LCC) pushed their mayor beyond the latter. The organization – which has over 12,000 registered members and a 30 year history of promoting bike-friendly streets in London — launched
Love London, Go Dutch!
a campaign addressed to Mayor Boris Johnson. Since the 1970s, Holland has worked to become the international gold standard for bike-friendly infrastructure. The country's designated bike streets are fortified with wide, segregated, protected cycle paths complemented by traffic-calming measures. In recent years, the Dutch traffic and environmental safety organization,
CROW
(originally an acronym for Center for Regulatory and Research in Soil, Water and Road and Traffic Engineering), released the official
Design Manual for Bicycle Traffic
. Its guidelines are commonly referred to as Dutch-CROW. For well over a year, "Go Dutch" demanded London seek to meet Dutch-CROW standards.  After gaining over 40,000 petition signatures and pulling off a public demonstration that elicited participation from over 10,000 cyclists, the LCC finally caught the mayor's eye. They consider Royal College Street their first true victory. The Design Manual for Bicycle Traffic has nearly 400 pages of recommendations and procedures for traffic equity. It gets pretty complicated, but it can be boiled down to this: 1) Bikers need to be protected from cars and risk of accident 2) Bikers need enough space to travel confidently. Making this happens, however, can require new signage, new traffic signals, new layouts, new segregators and even new roads. For LCC, the light segregation created by using zebra delineators saved Royal College Street enough space – and enough time and money – to substantiate realistic optimism: "Go Dutch" could, in fact, spread throughout London—and maybe beyond. Furthermore, the barriers are semi-permanent. It's relatively easy to add, remove or transfer zebra delineators if the original design needs to change. Barcelona, Spain, a city praised for spacious, scenic, bike-and-pedestrian-friendly streets, has been using zebra delineators to protect cyclists since the product was first released. Cities in France have followed suite. Now, less than a month after Royal College Street adopted them, officials in Cambridge, U.K are
considering implementing zebra delineators in their "Dutch" scheme
.
Where else can light segregation improve traffic safety?
Zebra delineators may be developing a steady European following, but they haven't been approved for U.S. public road use by the
Manual on Uniform Traffic Control Devices (MUTCD)
. At least not yet. That doesn't mean the innovative principals employed in the Royal College Street revision should be dismissed for the U.S. The use of zebra delineators for light segregation is hardly limited to bike tracks – even if it does serve them well. The optimal mix of physical protection, visibility, and resilience makes this invention ideal for multiple traffic safety uses, particularly when people, buses or bikes are  asked to share the road There are plenty of scenarios that can benefit from light segregation with lane delineators.  Here are some suggestions:
Use-Case #1: Campus races and sporting events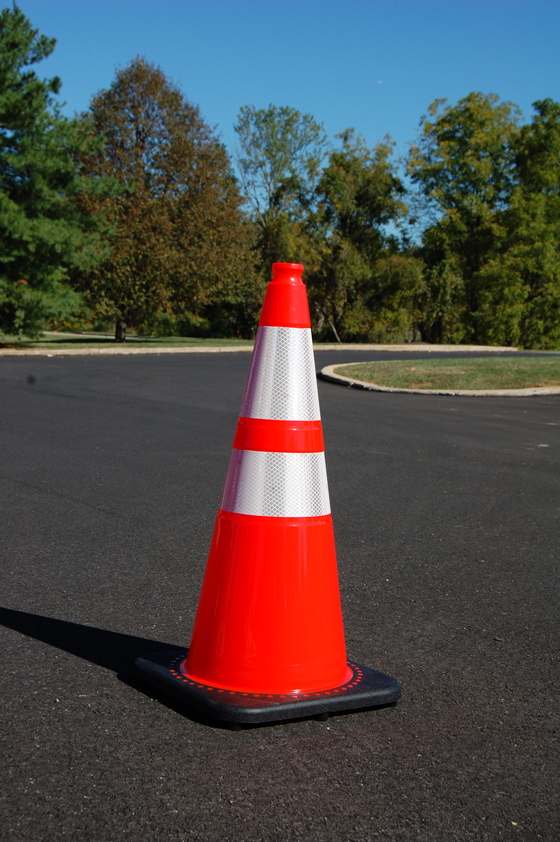 If the campus is private property, its roads are exempt from MUTCD standards.  Most of these campus roadways still get light vehicle traffic and they get more when there's an event.  A cross-country race, for example, can require physically and visually reinforced boundaries so that increased traffic doesn't interfere with the race. In these cases, zebra delineators are a good fit. Because they can be moved around, they can tailor to any event.
Use-Case #2:  Pedestrian barriers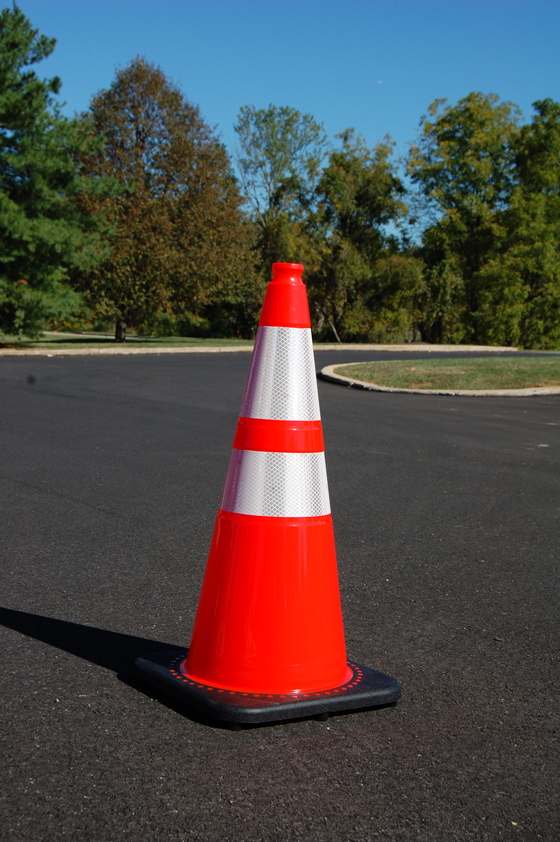 The rubber parking blocks in this picture of Manhattan Beach Pier appear well placed. The strollers are well protected from any stray cars. Yet, while this parking implement offers the same basic advantages as zebra delineators – they are made from durable recycled materials, offer semi-permanent solutions, and provide a strong visual cue — the design doesn't suit the purpose. The long, straight cut of the rubber parking block actually makes it vulnerable to sideways collisions – the exact scenario it's set up for. In due time – and with enough contact — the blocks will begin to chip away. Zebra delineators, on the other hand, are molded into a hump design to absorb sideways impact. For that reason alone, they are better suited for this kind of use.
Use-Case #3: Race car clubs
Large, collaborative race car teams, like
Formula Society of Automotive Engineers (SAE)
are responsible for building, testing and ultimately racing original prototypes. There's a lot of moving parts and a lot of risk factors. When it comes time to race, these teams are generally responsible for providing their own traffic safety control — a big task for a sport that averages between 120 and 200 miles per hour.
Traffic cones may suffice, but zebra delineators have some real safety advantages for race car teams:
They provide substantial physical obstruction – in addition to visual signals – to protect race car drivers from collision
They're durable so they won't wear out or crack if hit
They're bolted so they won't fall or roll around if a car, or the wind, makes contact
And just like a traffic cone, zebra delineators can be moved around to fit any track design.
Simply put, its just a more pleasant ride.
(Visited 2,802 times, 1 visits today)