The Growing Dangers On U.S. Roads
More Americans than ever before are commuting on public roads with a motor vehicle, and with more drivers comes more opportunity for auto accidents.
As this trend continues to progress, the U.S. is experiencing the longest run of roadway deaths and a recent study by the National Safety Council showed that over 40,000 people lost their lives to car crashes in 2018.
While deaths involving automobiles is down by 1% from the same period in 2017, 2018 still resulted in 4,560,000 nonfatal medically consulted injuries. This type of damage is one that is serious enough that a medical professional must be called to attend to victims.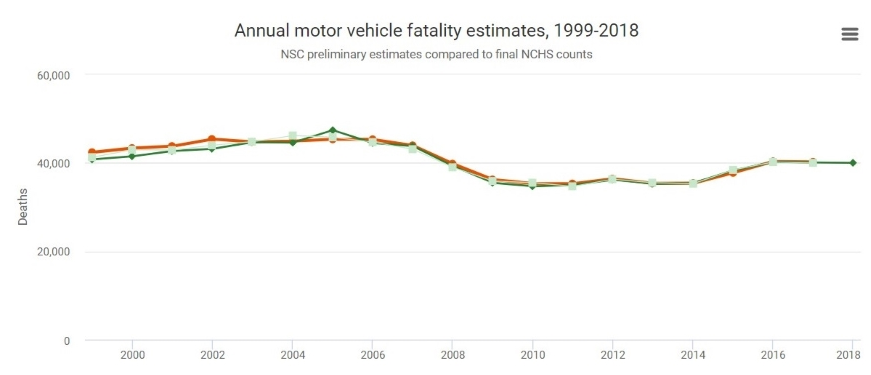 The same report showed that nonfatal medically consulted injuries resulted in estimated costs from medical expenses and wage losses of up to $300 billion during the same period.
Whether we look at the deaths or medically consulted injuries, we can see that the U.S. is experiencing a sustained period where drivers, pedestrians, and cyclists are at increased risk on the roads.
There are many dangers on the road, and as automakers and transportation officials attempt to change the trend of driving-related injuries several states saw at least a 5.8% spike in fatalities and injuries, including:
Florida
Hawaii
Minnesota
Nevada
New Hampshire
Oregon
Pennsylvania
Washington D.C.
Driver Behavior Is The Driving Cause Of Auto-Related Deaths
There are many factors to consider when looking at ways to reduce deaths and injuries on our public roads. Issues like road construction, time of day, and seasonality all contribute to accidents on roadways that can result in fatalities and injuries.

However, the one constant variable that continues to be the main contributing factor to roadway fatalities and injuries is the human element. Regardless of where drivers commute, drivers continue to engage in reckless driving, speeding and distract driving.
While lawmakers create regulations to enforce safe driving, we can look to advanced IoT to collect data and anticipate high-risk sections of roads to help promote safe driving habits.
Rethinking Roadways Technology
Until recently, roads were constructed and used purely for their functionality. Cities built roads to allow vehicles to commute between two points, and drivers were expected to handle all decisions along the way.
However, city officials and engineers are finding new and innovative ways to integrate IoT technology into roadway systems to help drivers understand the world around them.
These innovations are applied both to roadway infrastructure and individual vehicles.
While this approach to road construction is in its infancy, there are several examples of forward-thinking tests on U.S. highways like tests being conducted in Colorado with smart pavement.
This advanced initiative involves cooperation between state officials and a private company called Integrated Roadways. Colorado's Department of Transportation is the first state to test smart road technology that could redefine how roads assist drivers who encounter an accident or run off the road during their drive.
During the five year test, Colorado will monitor the performance of smart pavement that is covered in fiber optic cable that will sense if cars are driven off the road or other abnormalities like an accident.
Once an incident is recorded, various communication devices and sensors on the road will transmit information to state officials so emergency services can help drivers quickly.
This will reduce dangers for drivers who may not be able to call emergency services, and this type of real-time communication through IoT sensors in existing roadways can significantly increase the safety of drivers and property.
IoT Providing Real-Time Data To Drivers
Another factor that must be considered when looking at roadway safety is how IoT can improve driver safety in dangerous driving conditions.
Throughout the year drivers experience conditions that reduce roadway visibility like sun glare, ice, and heavy rain. Another factor that impact drivers are fog and this road condition is often experienced in mountainous areas.
Fog is a dangerous problem because it can develop rapidly and without warning, it can reduce visibility within minutes. This is why Tennessee is working with Cisco to test a network of fog sensors along specific roadways throughout the state that will detect gray areas.
Once collected by roadside sensors, data will be transmitted to a central Regional Traffic Center.
From there, IoT and machine learning will take several factors into account to determine the severity of local weather conditions and provide up-to-date readings so officials can take appropriate action to ensure driver safety in the are.
Using Advancing Technology To Keep Drivers Safe
Connectivity is one of the most important factors to consider when looking at ways to keep drivers safe on the road.
Whether lawmakers are looking for ways to combat dangerous road conditions caused by weather or ways to predict high-risk roadways throughout the day, solutions will need to include connected sensors and communication devices.
IoT is the solution that many engineers and politicians are turning to when looking for a way to reduce auto-related deaths and injuries. IoT provides a wide range of applications to help drivers understand their surroundings and even alerts emergency services of accidents in real-time to save lives!
(Visited 486 times, 1 visits today)