The city of San Antonio, Texas, made a significant step towards realizing their ambitious
Bicycle Master Plan
. With the addition of 250 Zebra Lane Blockers (aka Armadillos), transportation officials are making a commitment to safe cycling that goes beyond a strip of white paint. Like many progressive transportation strategies, the Master Plan, published in 2011, aims to push San Antonio from car-centric metropolis to multi-modal haven by integrating a variety of cycling facilities. These include protected highway access, off-road trails and hundreds of miles of dedicated cycle lanes. Transportation officials have been making impressive progress. In addition to establishing a well used bike share program,
the city now boast
nearly 700 miles of cycling facilities – up from 34 miles in 2010 — including over 100 miles of off-road trails.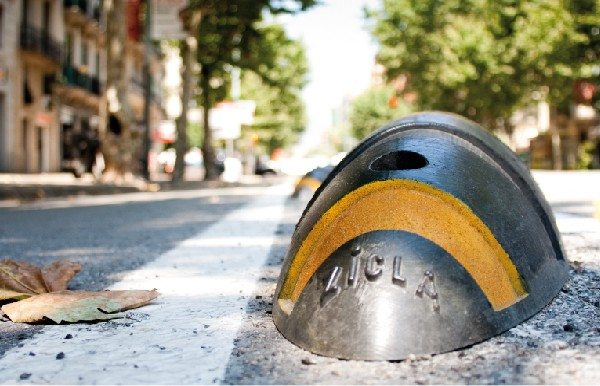 While the increase in painted lanes is a definite improvement, streets that are truly safe and accessible for cyclists of all ages and backgrounds must offer both visual cues and physical protection. The Zebra Delineator – used widely throughout Europe – does both. This simple hump-shaped blocker, made from ultra-dense recycled rubber, heightens bike lane visibility with added reflective stripes and is designed with a ridged surface to help catch vehicle tires before they enter the bike lane. By adding 250 zebras, San Antonio can properly seal slightly less than a half mile of cycle track. That's a drop in the bucket considering the Master Plan calls for a 1,763 mile cycling network. The catch is, cycling infrastructure tends to create a positive feedback loop — when people feel safer, they ride more and the demand for infrastructure increases. In 2008, the Spanish cities Zaragoza and Barcelona had a combined total of 20,000 Zebras installed on their cycle tracks. By 2010, that number jumped  to 50,000. San Antonio's renewed commitment to protected bike lanes comes on the heels of the announcement that B-Cycle – the city's rapidly growing bike share program –
is set to expand
from 50 to 70 stations and add 200 bicycles by the end of 2015 (
this is contingent on funding
). The rapid progress is hardly exclusive to this particular city. Houston, Texas plans to implement 500 Zebras and San Jose, California, is in the processes of installing 1,300. And that's just a small sample of
protective cycle tracks blooming
in cities and towns across the United States.
(Visited 515 times, 1 visits today)