---
What Size Barrier is Best for Me?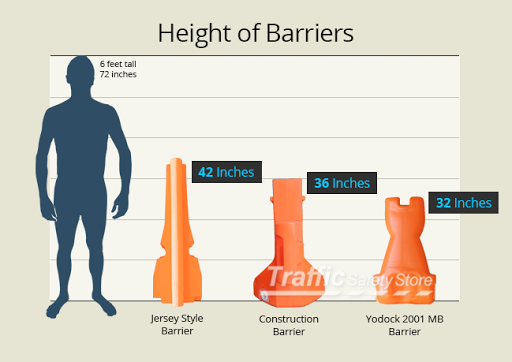 The Basics of Water Filled Barriers
Since our water filled barriers are constructed with high-quality Polyethylene plastic, the hollow construction is perfect for any construction site. The water filled barrier is lightweight when empty but provides excellent stability and energy absorption when filled with water.
Since we know that your construction project demands the best equipment, we have designed our barriers to be highly durable and resistant to splitting, cracking, and deterioration even in inclement weather.
Our water filled barriers have served our customers in various situations, including:
- Construction areas
- Work zones
- Crowd control
- Temporary road blocks
- Public works projects
- Special events/sporting events
- Traffic Channelizing
In virtually any construction zone there is always an essential balance to be struck between protecting motorists and protecting workers. Figures have shown the greater bulk of fatalities in work zones are drivers and their passengers.
Water filled barriers are a great alternative to traditional barricades because they provide energy absorption for oncoming traffic in a way that provides increased safety for both drivers and workers. This practical and economical application make water filled obstacles one of the most popular options for work zone places nowadays.
Benefits Of Our Water Filled Barriers
Especially in comparison to concrete and MASS barriers, water filled barriers often end up being a cost effective security and safety solution as they could be reused throughout the life of a project..
This substantial reusability means that when the cost of an entire system is broken down into price per use, the system isn't only affordable, but also great value for the money.
Available in a wide range of sizes and being simple to transport and set up, water filled barriers are perfect for short term and long term uses.
Swift Transport and Setup
Your construction crews will appreciate how easy it is to transport and set up the water filled barriers. All tasks can be easily be carried out by a two-man team. Deploying water filled barriers allows for rapid response in emergency situations, as well as adequate security on a temporary basis.
High Visibility Colors
To ensure maximum safety for traffic and construction crews, our barriers are made using highly visible colors to bee seen in all weather conditions.
Interlocking Layout
Our modular design provides your crews with the options they need for all kinds of situations. Simple for obstacle runs and total margin borders to be produced to meet many kinds of installation and delineation demands.
Water filled barriers may be interlocked to make curves to the right, and the left as well as straight lines, with full connectivity which reduces the probability of accidental or purposeful alteration of the barriers by vehicles or vandals.
Although active and offering high equilibrium after installed and filled, water-filled obstacle runs can easily be added to when additional barriers are needed or as work progresses.
When Our Water Filled Barriers Are Used
Applications include construction areas, work zones, crowd control, temporary roadblocks, public works projects, special events/sporting events, traffic channelizing and control, security, and pedestrian protection as well as many other unique uses, including:
Traffic Control
From temporary traffic lanes for channeling traffic to splitting traffic from pedestrian zones or designating parking areas, the plastic construction of water-filled barriers means they present a decreased danger of damage to vehicles, making them the ideal alternative to concrete barriers to be used in the short or longer term.
Water filled barriers can also prove much more efficient than using cones as the interlocking design means there aren't any gaps and, once filled, water filled barriers cannot be readily accidentally or deliberately transferred or misaligned if struck by way of a vehicle.
Crowd Control
Your team will appreciate the design, ease of use, and the flexibility that our water filled barriers provide. Whether you are planning for a concert, sporting event, or festivals – with excellent stability, high visibility, and plastic construction, water filled barriers supply a safe but secure obstacle system for public areas.
Road Or Walkway Closures
Our barriers are the perfect solution if you are looking to close roads or walkways. Since our water filled barriers are easy to deploy and transport, your project will benefit from start to finish. The fast deployment of water filled barriers makes them perfect for quick close vehicular and pedestrian access routes in emergencies.
We Are The Leading Experts & Providers Of Water Filled Barriers
With so many industrial and commercial applications for water-filled barricades, it can be difficult to understand if these obstacles are what you need for your project. The Traffic Safety Store has years of experience helping customers just like you choose the perfect safety cone marker for any project or application.
Give our trusted experts a call when you are ready to find the best safety supplies you need. Our team will work with you to find the best solutions to your problem, and our commitment to speedy delivery will have your traffic safety products delivered to you in no time.
These Jersey style plastic barriers can be filled with sand or water, weighs approximately 1,655 lbs when filled with water - Easy to drain. NCHRP crash rated: 350, test level 1.
---