In stock in East & West Coast warehouses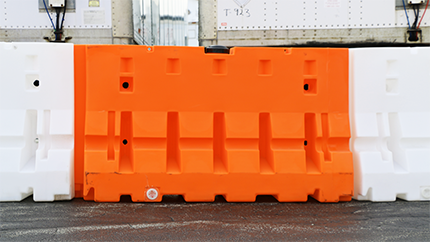 In stock in East & West Coast warehouses
In stock in East & West Coast warehouses
In stock in East & West Coast warehouses
In stock in East & West Coast warehouses
In stock in East & West Coast warehouses
On Sale

You save 13% regardless of quantity

$

290.00
$335.00


each

$

290.00
$310.00


each

Quantity
1-49

Quantity
50-99

Quantity
100+

In Stock - Ships Immediately

---
Volume Pricing:
Quantity
1-49

Save
8% Quantity
50-99

Save
16% Quantity
100+

$335.00

$290.00


each

$310.00

$290.00


each

$290.00
each
Description
---
Jersey Style Water Filled Barricades
42" tall x 72" long x 24" wide at base, narrowing to 10" wide at the top
Approximately 100 lbs. each (empty weight)
Two Colors to choose from - Hi-Viz Safety Orange or White
Water Filled Barriers Weigh approx. 1,655 lbs filled with water
Holds up to 182.9 gallons when filled completely to top
Each barrier has two pockets to hold optional barricade flashers (sold separately) - All flashers we carry will attached to these barricades.


The portable 100 lb. Jersey water barrier is possibly the sturdiest, safest traffic blockade available. It's used to protect street-side construction sites and block off roads during resurfacing. Compared to the concrete K-rail, plastic water barriers are safer for motorists. Molded-in male/female ends lock together so installation requires minimal hardware or roadside exposure. Units can be locked at up to 15 degree angle to fit curvature. Water filled barriers come in eye-catching orange or white. These water filled plastic water barriers can be filled with sand or water - Easy to drain. NCHRP crash rated: 350, test level 1.

---

Excellent service! No hassle. Product was as advertised. Thank you.

Cirrus Aircraft Factory Service Center, Duluth, MN

---

Excellent. Easy ordering, fast shipping, great product!

RMC Logistics

---

Fast Delivery! Came two days after purchase, as quoted.

C. Ptacin, ARCO Murray

---

Delivered on time, very good experience.

R. Neel Const.

---

Excellent! We placed our order on-line. It was easy and painless. Traffic Safety notified us every step of the way without us having to ask. Product came in ahead of what we had anticipated. We will be back. Thanks to all your staff.

Lee Alexander

---

"Sales & delivery was perfect. Second time use. Product is just as described."

William Boyd

---

This experience as in all previous orders was exceptional. The salesmen are very well prepared and offer valuable and pertinent information. It is a pleasure to do business with a company like this. You guys have great products excellent service and friendly personnel a very welcome change to the usual rude and unprepared sales staffs of many of my vendors.

J. Cable