Free Mounting Hardware Included
Free Mounting Hardware Included
Free Mounting Hardware Included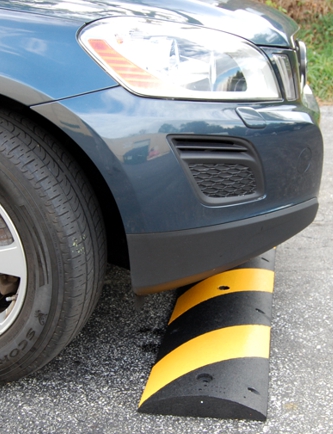 Free Mounting Hardware Included
Free Mounting Hardware Included
On Sale

You save 22% regardless of quantity

$

115.50
$147.95


each

$

115.50
$134.95


each

$

115.50
$123.95


each

Quantity
1-14

Quantity
15-49

Quantity
50+

In Stock - Ships Immediately

---

Quick Facts:

6' long x 12" wide x 2 1/4" tall
Approx. 55 lbs weight - Heavy Duty Recycled Rubber
Mounting Hardware Included

---
Volume Pricing:
Quantity
1-14

Save
10% Quantity
15-49

Save
19% Quantity
50+

$147.95

$115.50


each

$134.95

$115.50


each

$123.95

$115.50


each
Description
---
Heavy-Duty Speed Bump - Solid rubber (no channels) for demanding applications - High traffic areas or heavy vehicles like trucks and buses. The Heavy Duty 6-foot rubber speed bump safely slows car speeds to 2 to 5 mph. Helps calm and slow traffic in parking lots and private roads. Recessed bolt holes in the six foot rubber speed bump make it easy to install and remove. Made from 100% recycled tires so there's no internal hardware – an added safety benefit.

Reflective yellow stripes and cats-eye reflectors ensure these speed bumps are highly visible at night. Heavy Duty Speed Bumps are 6 feet long, 12 inches wide, with the tallest portion of the speed bump is 2.5 inches. Includes mounting hardware.

Meets Safety Standards: ITE; FHWA

---

"I even messed up my order, they caught my error, called my to confirm what I messed up and corrected it. It was a great experience!"

chadmshepard

---

"Got exactly what I needed, and shipped promptly. Great job!"

Master Access Controls, Inc.