30-Minute Orion Road Flares - (case of 36)
Item #:ORION0730
On Sale

- You save 15% regardless of quantity

---

$

97.95
$114.65


$

97.95
$105.50


Quantity
1-10

Quantity
11-24

Quantity
25+

Quick Facts:

Case contains 36 Orion flares
Waxed Flare w/Plastic Cap
30 Minute Burn Time - Non Perchlorate Formula
Choose with or without Wire Stand

Please note:

Due to US Department of Transportation HAZMAT shipping restrictions, road flares are not returnable.

---

---
Volume Pricing:
Quantity
1-10

Save
9% Quantity
11-24

Save
17% Quantity
25+

$114.65

$97.95


$105.50

$97.95


$97.95

Orion 30 Minute Red Flares are the most popular road safety flares among police officers, firefighters, and the general public, as they are economical and reliable.
They work in every emergency scenario and are highly visible under any weather condition. Plus, this flare is super easy to use.


Specified and approved by the Bureau of Explosives and Underwriters Laboratories
Orion flares from TrafficSafetyStore.com burn in all weather conditions
Choose with or without Wire Stand
Thirty-Six (36) flares per case
ORION FLARES ARE THE BEST SIGNAL FOR ESTABLISHING ADVANCE WARNING AND TRANSITION AREAS IN MINOR AND INTERMEDIATE INCIDENTS
• ROAD FLARES ARE UNIVERSALLY UNDERSTOOD
Danger recognition at the earliest moment is absolutely critical. Unlike cones and arrow boards, which we see everyday in mundane circumstances, everybody knows the unique flickering red glare from a flare means "slow down / move away / first responders on scene / danger ahead".• FLARES NOT DISTRACTING OR BLINDING
It is widely reported that too many bright and flashing lights on scene is confusing and distracting to drivers. The steady flicker of flare light provides immediate danger notification and channeling information without adding to the confusion.• HIGHWAY FLARES ARE THE BRIGHTEST SIGNAL
Minimum 5x brighter than portable electronic alternatives (and not battery dependent). If upstream traffic can't see or understand your ADVANCE WARNING signal, these extra seconds of perception/reaction time could mean your life!• FLARES BIGGEST SIGNAL / INDEPENDENT LIGHT SOURCE
Light from flares illuminates surrounding elements (e.g., vehicles, bushes, trees, guard rails, telephone poles) and is even further amplified by snow and fog making the "signal" even bigger. Unlike cones which require external lighting, flares self-illuminate and do not depend upon angle of reflectivity.• FLARES ARE COMPACT, EASY TO STORE & QUICK TO DEPLOY
Typical flare deployment with 10-18 flares is fast and manageable. Cones are heavy, bulky and difficult to manhandle onto the active roadway, and signage takes time to get on scene. Every cruiser can carry a sufficient number of flares to quickly and effectively establish the ADVANCE WARNING & TRANSITION AREAS.
How do I light an Orion Highway Flare?
Orion Safety Flares are easy light and safe to use.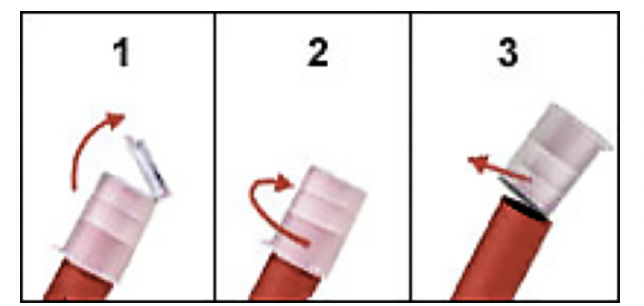 1) Remove plastic lid to expose scratch sticker on the cap.
2) Twist and remove the cap, exposing the black flare igniter button.
3) Gently press the black ignitor button against the scratch sticker on the cap, strike away from your face and body. Aim downward.
Once the emergency flare is ignited, carefully place it on the ground (do not drop). Do not hold the flare in an upright position as molten residue from the combustion process will burn if it drips on your hand.