Item #:ORION0715
On Sale

- You save 15% regardless of quantity

---

$

124.80
$146.10


$

124.80
$134.50


Quantity
1-10

Quantity
11-24

Quantity
25+

Quick Facts:

Case contains 72 Orion flares
Waxed Flare w/Plastic Cap
15 Minute Burn Time - Non Perchlorate Formula
No Spike & No Wire Stand, simply lays flat

Please note:

Due to US Department of Transportation HAZMAT shipping restrictions, road flares are not returnable.

---

---
Volume Pricing:
Quantity
1-10

Save
9% Quantity
11-24

Save
17% Quantity
25+

$146.10

$124.80


$134.50

$124.80


$124.80

Orion 15 Minute Red Flares are the most popular road safety flares among police officers, firefighters, and the general public, as they are economical and reliable.
They work in every emergency scenario and are highly visible under any weather condition. Plus, this flare is
super easy to use
.
Specified and approved by the Bureau of Explosives and Underwriters Laboratories
Orion flares from TrafficSafetyStore.com burn in all weather conditions
Seventy-Two (72) flares per case
Orion 15 Minute Road Flares are Proudly made in the USA!
How do I light an Orion Highway Flare?
Orion Safety Flares are easy light and safe to use.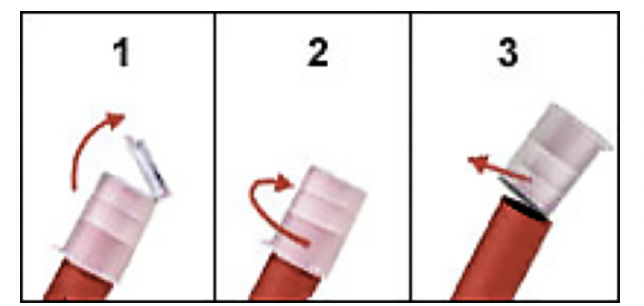 1) Remove plastic lid to expose scratch sticker on the cap.
2) Twist and remove the cap, exposing the black flare igniter button.
3) Gently press the black ignitor button against the scratch sticker on the cap, strike away from your face and body. Aim downward.
Once the emergency flare is ignited, carefully place it on the ground (do not drop). Do not hold the flare in an upright position as molten residue from the combustion process will burn if it drips on your hand.
---
---

5/3/2022

quick shipment, works great getting rid of armadillos

John Gibson, Lindale TX

---

11/10/2021

I was very happy with my purchase.

Suzanne Verdugo , Hemet CA

---

6/8/2021

These flares work great and arrived quickly!

Karen Dennis, Colville WA

---

12/27/2020

shipped as described arrived on time

Paul Schutte, Frankfort IN

---

11/16/2020

Orion - 15-Minute Road Flares, burn bright and cannot be missed. They are easy to light no matter what the weather and stay lit. I prefer the 15 minute flares over the 20 minute flares because I am a farmer and use them when I have equipment crossing the highway and this way they burnout 5 minutes sooner. These flares can be dropped in a bucket of water and they will stay lit however, I don't recommend that you do it.

Gregory Clark, Pleasant Hill OR

---

10/23/2020

nothing much to tell, ordered, received them and they were a good value for the price

Mike Spoores, Celina OH

---

7/14/2020

Ordering online was quick and simple. Delivery had a few hiccups tho as the marking on the package and packing slip were slightly different, causing UPS to reject it without giving reason why. Once I found out what the reason was and shared with Traffic Safety, they were quick to fix the issue and I even heard from the VP! Great customer service and product.

Karen Clark, Ahwahnee CA