Highway Flares Significantly Expand YOUR Safety Zone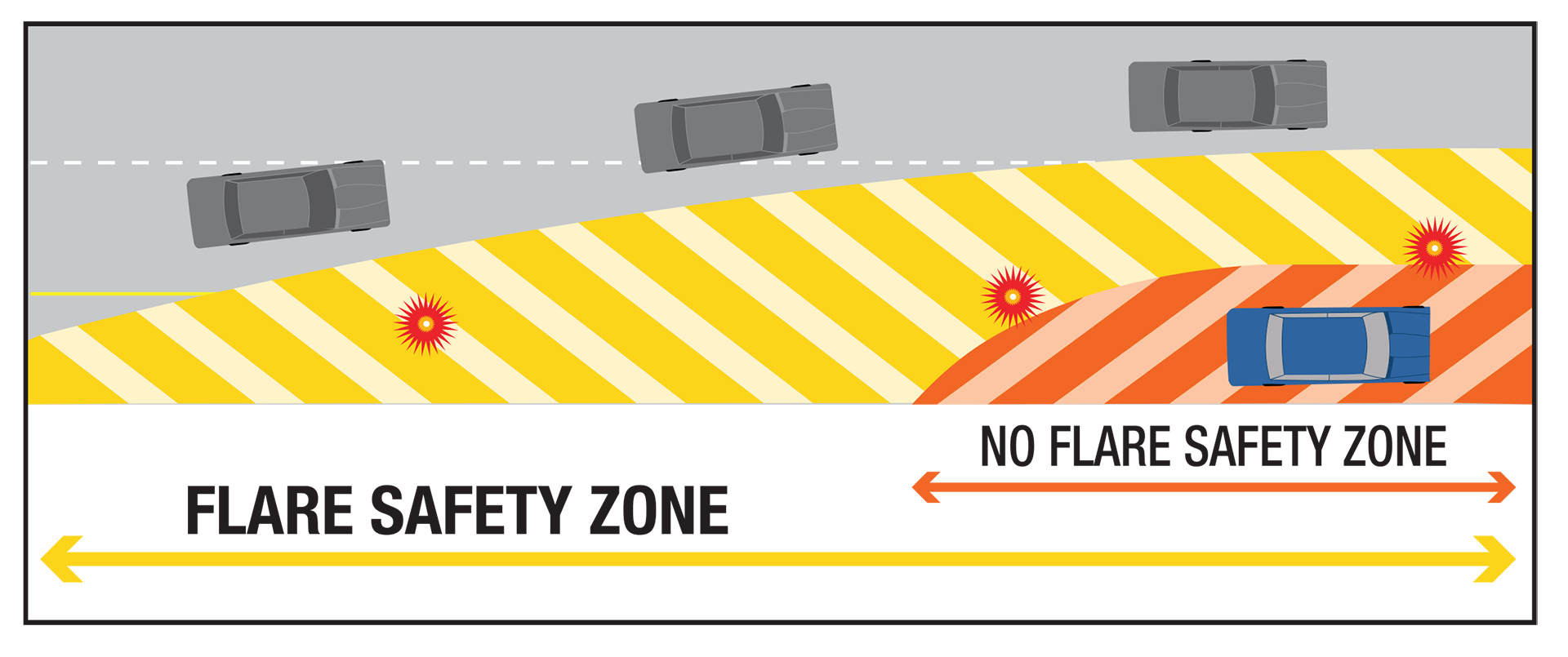 Road Flares are the universally understood distress signal.
Three flares have the same safety effect as a police car with flashing lights.
Flares reduce speed of passing vehicles avg. 16% reduction speed.
Flares move traffic away from you while you wait for help to arrive, 89% right lane volume reduction and 85% increase in lateral separation.
Safety Zone improves as more flares are deployed.
CREATE YOUR ZONE OF PROTECTION.
Highway Road Flares and Emergency Flares from Orion Safety

The Traffic Safety Store is the leading distributor of traffic safety equipment in the USA, and we are also one of the best sources for roadside signaling flares and road flares. All of our Orion safety flares are made in the U.S.A. and meet the strictest guidelines in the industry.
This means that you can rest assured that all of our road flares meet requirements for the highest quality products on the market. We carry a range of safety flares to meet all of your needs, including:
Flares are an ideal light and signaling source in an emergency situation because they warn oncoming vehicles about the potential danger in the area. The extremely bright glow of a road flare illuminates surrounding objects, and the light can be seen clearly in any weather and even during snow and rain storms.
You can use emergency flares at any time throughout the day or night to keep your accident scene well lit, and some of the benefits these devices offer include:
Reduce speed with emergency flares in the area of an accident site.
Expand the depth of a safety zone to keep pedestrians and drivers safer.
Increase lateral separation from passing traffic compared to not using signal flares.
Our traffic flares are the perfect choice if you need to increase the visibility of an accident scene and they are highly effective at warning oncoming traffic about the potential danger in the area. It is not difficult to use a road flare, and our team is ready to answer any questions you have about our products!


Why Road Flares Are A Great Safety Device


Making a hazardous site as visible as possible is one of the first steps to controlling an accident scene. It is essential to create a "safety zone" around an accident site to ensure the safety of emergency responders, victims of the accident, and passing traffic.
Unlike other products, emergency flares are a perfect solution for police, fire, and emergency responders because beacons work in almost any environmental condition like rain, snow, wind, and even fog.
Another reason road flares are an essential piece of any emergency toolkit is that they are universally recognized as the signal for an emergency in the area. When an approaching driver sees a flare in the road, they will know that there is a hazard in the area and they need to slow down and pay attention.
Along with being waterproof and wind-resistant, our safety flares are self-contained. This means that you do not need additional items like an energy source like batteries or the other light source like a light bulb to ignite the flare. Our Orion emergency flares are engineered from top to bottom to stand up to the unique needs of an emergency situation.
Tips For Using An Emergency Flare
Road flares are an essential part of any emergency kit for any safety professionals. Here are a few tips to make sure you get the most out of your safety flares while also keeping your accident zone as visible and safe as possible.
Try to place flares at least 100 steps behind the accident site towards oncoming traffic as a warning for drivers. Make sure there is no flammable materials or dangers in the area.


Hold the flare away from your body and point the flare away from yourself as you light the safety flare.


Remove the cap of the flare and strike the end of the flare with the rough side of the flare cap.


Point the lighted flare down towards the ground when carrying it and walking. This will prevent burning residues from hitting your hand or clothing.


Place the flare on the ground gently in an area that will prevent the flare from rolling away.
The Leading Provider of Signal Flares
Give our trusted experts a call when you are ready to find the traffic safety supplies you need. Our team will work with you to find the best solutions to your problem, and our commitment to speedy delivery will have your traffic safety products delivered to you in no time. Contact us today to learn more about Orion Emergency Flares today!