6' Commercial Parking Block
Free Mounting Hardware Included
Free Mounting Hardware Included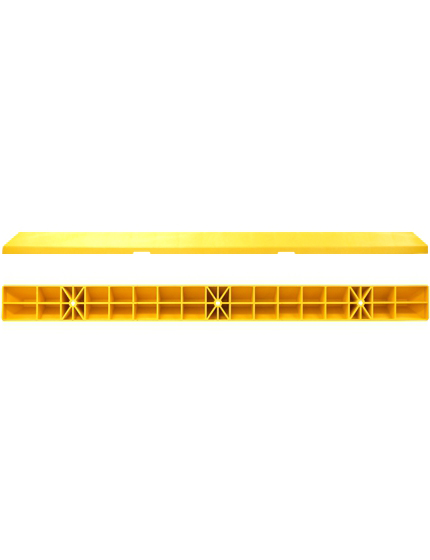 Free Mounting Hardware Included
Free Mounting Hardware Included
Free Mounting Hardware Included
Free Mounting Hardware Included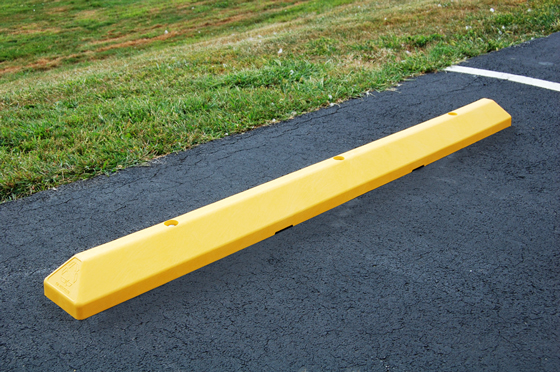 Free Mounting Hardware Included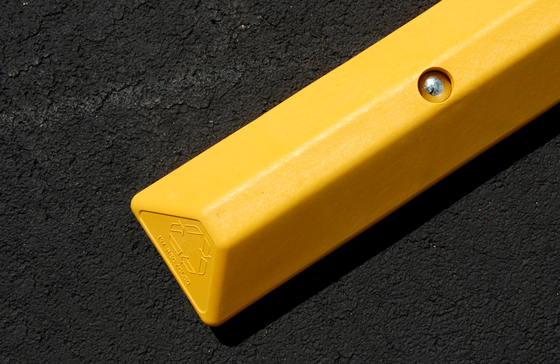 Free Mounting Hardware Included
Quantity
1-24

Quantity
25-49

Quantity
50+

In Stock - Ships Immediately

---
Volume Pricing:
Quantity
1-24

Save
5% Quantity
25-49

Save
10% Quantity
50+

$39.95
each

$37.95
each

$36.45
each
Description
---
Choose - Gray, Safety Yellow, White, Green, or Handicapped Blue
70.5" long x 5.75" wide x 4" tall
Includes three (3) fasteners per block
Approximately 16 lbs. each
Engineered for added strength at lower weight, the 6-foot commercial plastic parking block can be carried and installed by a single person. LEED qualified and made from injection-molded, 100 percent recycled HDPE plastic, this parking stop resists tire scuffing and natural elements. The color is molded throughout – there's no upkeep required. Great for shopping mall parking lots, apartment and condo complexes, and commercial grounds. Has recessed bolt holes and mounting hardware is included.
Ships Immediately
Problems Solved
---
Problems that our Commercial Parking Block solves:



Concrete parking blocks are only available locally.

- The Traffic Safety Store ships our recycled plastic Commercial Parking Blocks all over the USA (all over the world in fact). This means you are no longer limited to the styles of concrete parking blocks that are made locally. You now have choices!


Concrete parking blocks are heavy.

- Our 6' Commercial Parking Blocks weigh 16 lbs. each, meaning one person can carry the block, put it where you want to install it, and install it yourself with no specialized equipment (a hammer drill does make it go faster). With concrete blocks, the company you buy them from has to deliver them on their truck. They will also need to bring out a piece of machinery to unload the blocks and put them into position for installation. All of this costs money which can make purchasing smaller number of blocks unaffordable. Lastly, when those concrete blocks break from exposure to the elements, you will need that same piece of machinery to get them out of your parking lot.


Concrete parking blocks require painting

- Since the high visibility colors are mixed with the recycled plastic when they are molded, our Commercial Parking Blocks never require painting. Also, once you paint a concrete parking block once, it requires continual maintenance to look good. Recycled plastic parking blocks require zero maintenance.


Concrete parking blocks eventually wear out due to weather

- Over time, all concrete installed horizontally (meaning water does not run off) absorbs some water and cracks when the water freezes and thaws. Recycled plastic parking blocks do not absorb water so freezing and thawing is not an issue.


---

CAME FAST, EASY TO INSTALL. EXACTLY WHAT I WANTED/ NEEDED.

Club Neopolsi Creations

---

Cheaper and better than the competitor. I wish I had known about Traffic Safety Store sooner. I bought the same product elsewhere and it was more expensive. Delivery was quick and the product I purchased was just as described. Thank you.

Sea Horse Motel

---

Great to deal with. Easy to order and delivery is very fast.

Indiana (PA) Area School District

---

Quick and easy. Great job and very simple to order and pay, the cost was not out of hand on both product and delivery Thank you for the great job.

Brass Buckle Restaurant

---

Great service and great products! Bob worked with me on a quick return and sent what I needed right away. Excellent customer service and the products look great!

Corvallis Caring Place

---

Excellent Service. Order shipped same day and arrived third business day letter. Very pleased. Would highly recommend.

Faith Baptist Academy

---

Great Product at a good price. Exactly what I needed to assure that we did not drive our cars into the house. Easy to install .

John Passanisi

---

Quick and correct. The order was correct. the order arrived quickly. Job well done! The only way to improve the experience would have been for The Traffic Safety Store employees accompany the 16 parking lot bumpers and install them for me. At no cost of course :) ......

F.A.C.T., Inc.

---

parking stops - good product,easy to install -good delivery-overall good experience

S. Collard

---

'good pricing & fast delivery'

R. Lembach

---

Well done! Easy to find. Easy to shop. Easy to buy. Painless delivery. Product exactly as described. Fair price. Totally pleased.

Coach Stop Inn

---

Another Satisfied Customer! Good price, quick shipping, and a high-quality product. Thank you!

Little Homes of Texas, LLC

---

Excellent!! Great experience, next day delivery was outstanding! very user friendly Website, the prices were great, I wouldn't hesitate to use again or to refer. Thank you again for the great experience!

Dan W.

---

Great Experience, great communication and very fast response time. They brought issues up that we hadn't thought about and we were able to make changes that were beneficially to the owner (our customer).

Brian, Low Mountain Construction

---

Quick Shipping! Items were exactly what we expected!

Shiawassee Council on Aging

---

parking lot re-do. Great product, good price, delivered on time.

Shamrock Holdings

---

Stop my wife!! The stop block I received exceeds my expectations by at least half a magnitude.

PalePlumAngelfish

---

Four plex parking 'Ordered the parking stops and they were delivered on time. Installation is easy. Good product.'

jimreid_homes

---

'Very good product! I'm very happy with it, and the service super fast! 100% recommended!'

Victor Canales

---

'Perfect Fit. Light weight and durable. Was able to install myself with no help. No more running into fence posts by customers ! Thank you.'

eufracio_rios

---

Great looking parking lot! Although the curbs were all exploding out of their shipping boxes, they all arrived in perfect condition and installed easily. It made the parking lot look much nicer and more professional. We feel much safer now from a vehicle parking too close to the buildings.

bbailey-4433

---

"Quick delivery and great product!"

vmrobinsonjr

---

"Ordered online. Product descriptions were clear and easy to understand. My order shipped on the same day it was ordered. I have the product in house and ready when my project begins. Excellent service, fair pricing, and great product! Thanks!"

Rose S.

---

"Fast and easy ordering. Good quality."

lesterdalme

---

We would shop again! Quick delivery, product as described. Keeps our insurance company happy. What more can I say!! Oh and good prices

Brenda Escotter

---

They came quick and look great.

TWD Plumbing

---

The Parking Curbs were exactly what I was looking for to border my driveway. They were easy to install and arrived quickly.

Maggie Calcaterra

---

"ordering on line was very simple and delivery was very prompt. very satisfied"

George S.

---

The Traffic Safety Store delivered quality product in a timely manner. I have ordered twice in the last two weeks because we were so impressed with their service!!

V. Anderson

---

Traffic Safety Store has been very helpful in getting GoSpace started with your company. GoSpace specializes in the installation of Energy products, like Electric Vehicle Charging Stations, Solar Canopies, Wind Turbine Street Lights and Solar Street Lights. We accessorize these parking spaces and/or parking lots where our products are located and want the accessory products to protect the environment too. Your product has allowed us to do just that. And the peace of mind that once the products are ordered and delivered is priceless. Thanks again!

D Hein

---

Traffic Safety Store fulfilled my order in a fast and professional way. I had no problems with ordering. Delivery was fast with no problems. In future, if I ever need to order any other product that they offer, I will not hesitate to use them again.

B. Muroski

---

Excellent service. Sure will be contacting them next time I need wheel stops.

Dassar Khan

---

Very straight forward and easy to order parking lot stops. If I had a quick question they were there online to answer quickly. No surprises and the order arrived as scheduled.

T. Leite

---

Product exactly as described!

David C.

---

The Traffic Safety Store had a good selection and had what I needed. They got it out to me in a jiffy. I am glad I bought my auto bumper from them.

Jim Mickens

---

I noticed I had ordered the incorrect number of blue and white 6" commercial parking curbs at the time I was preparing to install on job site. I called and bob answered with in 2 rings and and he sent out the correct ones same day! Thank you for the great service!

ATC Landscaping

---

I just wanted to let you know that the parking blocks have arrived at our firehouse. They look great. Many thanks for your services.

John Raby, Mount Horeb Volunteer Fire Co.