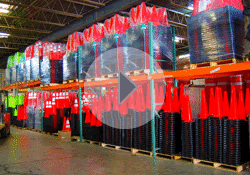 Nothing gets attention like traffic cones! Whether it is drivers, pedestrians, shoppers or student athletes, people take notice of bright colored lime and orange traffic cones.

With more MUTCD compliant traffic cones and tubes in stock and on sale than anyone else, The Traffic Safety Store can get you the orange traffic cones or tubes you need fast.

Whether you are looking for soccer cones, road cones, or even custom traffic cones, we have both flow molded and injection molded pylons IN STOCK ready to ship.


All Traffic Safety Store traffic cones are 100% compliant with the Federal MUTCD.
Our black base PVC traffic cones, available in orange and lime, have a base made from 100% recycled PVC dyed black. Also, all our traffic cones are available with reflective collars and custom stenciling, including logo's.
As you shop for traffic cones, please keep in mind that The Traffic Safety Store never charges a "Set-Up Charge" for stenciling on custom traffic cones. We can even do most logos on the outside of the traffic cones for added marketing impact.
With an average traffic cone inventory of over 18,000 traffic cones in our warehouse, the Traffic Safety Store has the largest selection of premium quality traffic cones in the United States.
NOBODY SHIPS TRAFFIC CONES FASTER THAN US!